Vacation is a much needed medicine for everyone in this busy world. No matter how long it is, either a daycation or a long trip, it definitely adds some energy to your life. Bangalore is surrounded with  so many beautiful places to runaway/getaway from the busy corporate life.  If you are planing to go for a daycation or any weekend trips around Bangalore without travelling too far, the following map will help you to find one such place of your choice.  This list covers places which are less than 100 Kms  from Bangalore.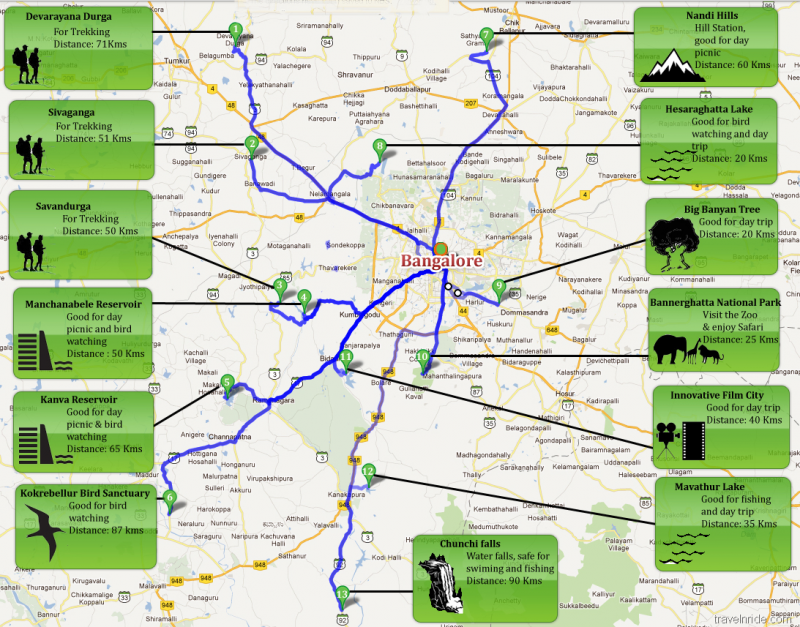 Image Courtesy: travelride.in
So here goes the list of places near Bangalore to visit :
1. Devarayanadurga
2. Shivaganga
3. Savanadurga
4. Manchinbele Reservoir
5. Kanva Reservoir 
6.  Kokkare Bellur Birds Sanctuary 
7. Chunchi Falls
8.  Maruvathur Lake 
9. Innovtive Film City 
10.  Bannerghatta National Park
11. Big Banayan Tree (Aalada Mara)
12. Hesarghatta Lake
13. Nandhi Hills ( check our post)
Happy Travelling!
WorthvieW
For latest updates follow us: