When it comes to a family vacation with teenage children, camping would be the first option for many families. With varying geographical locations, India has a lot of different types of camping places for a nature filled vacation. In India, you can camp at mountains, valleys, deserts, forests and many others places. Below are the top ten camping spots in India that are highly sought by international and local travellers.
Rishikesh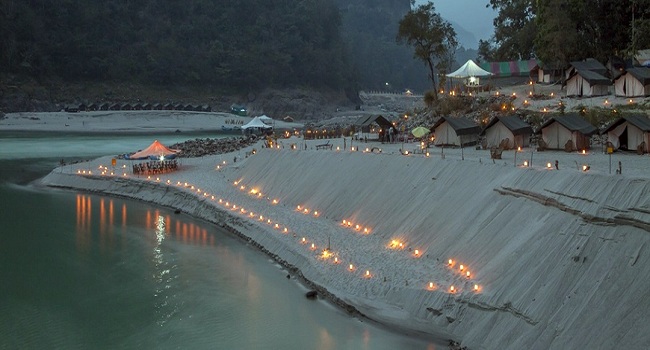 Rishikesh is located in laps of Himalayan Mountain in Uttarakhand. It is a pilgrim place, a place for outdoor activities like rafting, trekking and others and, also a place for relaxation and yoga. Beyond all these, it is a wonderful place for camping in summer. The scenic beauty of the place is unquestionable. It has mountain background, lush vegetation, crystal clear bluish green waters and others. Just like Rishikesh, Mussoorie is another place in Uttarakhand famous for camping sites. Every year a lot of tourists visit this place especially for camping.
Munnar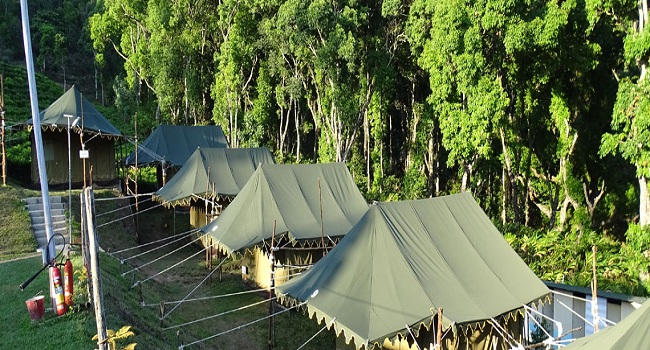 Munnar is a hill station in Kerala. It is a very beautiful place which is filled with natural attractions like tea plantation, mountains, national parks, streams, lakes and others. Camping is a very common activity in this hill station. Camping near forest areas is a very famous adventure activity in Munnar. Other camping areas in and around Munnar are Periyar National Park (approval from the authority of the park is essential), Wayanad, Cliff Hut and others.
Ladakh
Ladakh is known for many adventure activities. It has the top three highest mountain passes in the world. People also visit this place for various other activities like rafting, trekking, motorcycling and others. Camping is an important activity between May and September. The place will be mildly warm and the Himalayan Mountains would be clear in view. You would have stunning environment throughout the day. You can find migration birds, enjoy sunsets and have a lot of other fun while camping. The most common place for camping is near Lake Pichola. Lake Pichola is a clear water lake that changes its colour for every hour during day time.
Nanital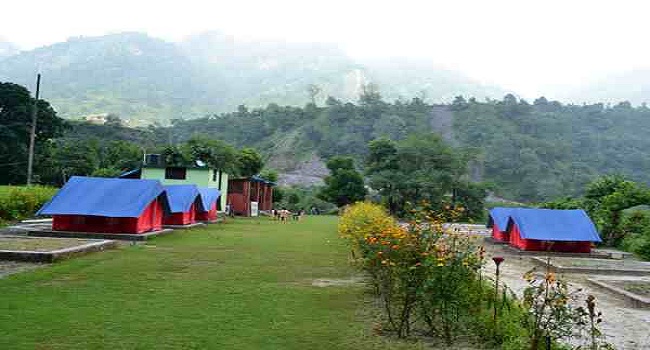 In Nanital, the camping is a romantic activity for honeymooners. The hill station has a lot of exciting scenic places. You can set a camp at any place any enjoy gorgeous climate, stunning natural beauty and other elements. In some places, you can find tents in the camping areas ready to occupy. You can enjoy other activities like paragliding, rafting and others.
Jaisalmer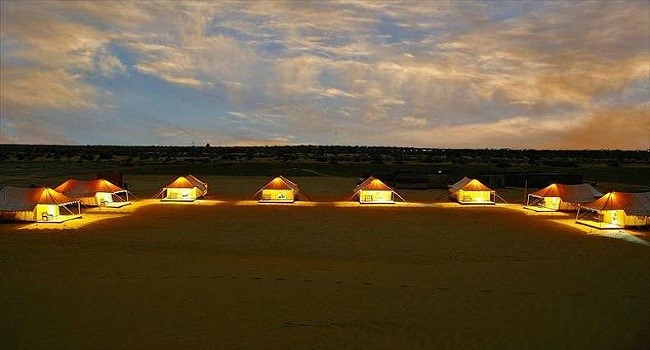 How about camping in sand dunes at night on a cold desert night? Jaisalmer is an important place in Rajasthan for its camel rides and sand dunes.
Camping in desert sand is an important tourist activity followed by having camel safari, visiting palaces and others. You can enjoy camel ride to your camp, sit on the dunes, enjoy sunset with open air dinner and retreat into your camp for the night. You can also enjoy local folk dance performances in some camps.
Goa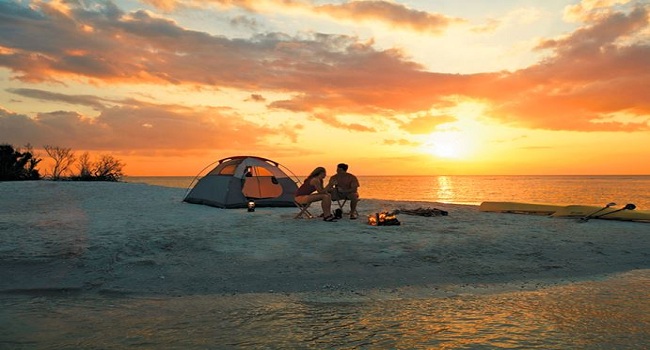 Goa is famous for beach related activities and night life. Camping near beach with hammock is the most common form of accommodation for many backpackers. You can also camp for fun. You can enjoy the sound of the waves at night while staring at the starry sky.
Coorg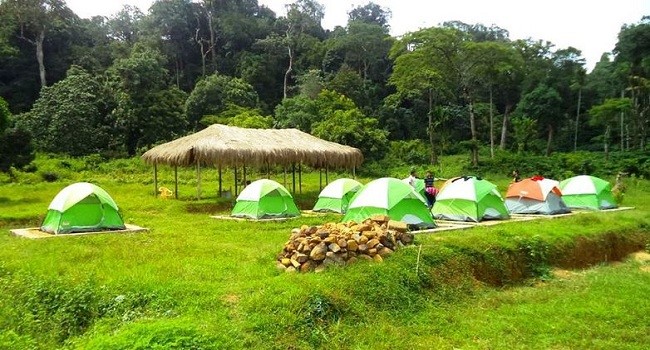 Coorg is a hill station near Mysore, Karnataka. It is famous for its numerous trekking trails and scenic places. Also you can camp at any trekking trail or near any natural scenic attraction during your South India Tour. The most common place of camping in Coorg is Bettigiri. Camping overnight near a stream is a very common romantic activity in Coorg, especially during summer season.
Matheran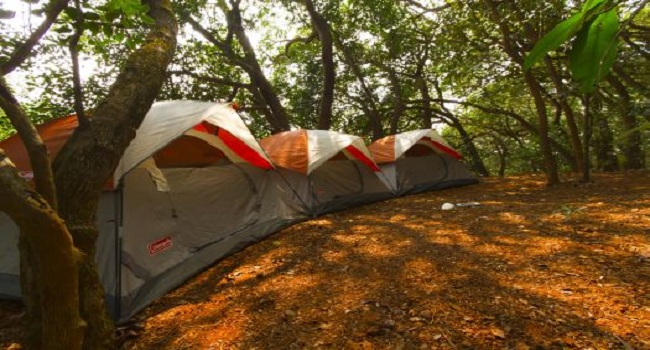 This is a hill station which is vehicle-free. The most common activity in Matheran is to camp near the Charlotte Lake and enjoy horseback riding and other adventure activities near it.
You can also camp in many slopes in the Western Ghats. You can find a lot of camping sites in this place as it is a very common method of accommodation and one of the interesting tourist activities here.
Chandratal Lake Camping, Himachal Pradesh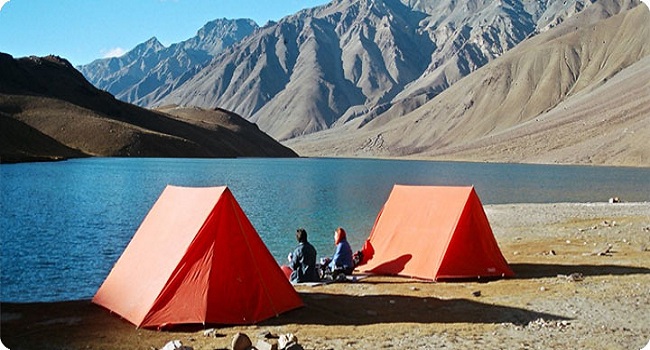 There are a lot of camping sites in Himachal Pradesh. The first camping site is the Chandertal Lake which is called as Lake of Moon. Camping overnight near this lake is one of the most common ways of reducing stress. The beauty of the lake in the night is a wonderful one. Manali valley is another ideal place for camping. There are a lot of sheltered camp sites in fields of this valley. Spiti Valley is another camping site which is located in Keylong district. If you are visiting this place in May or June, you ought to enjoy camping.
Sonamarg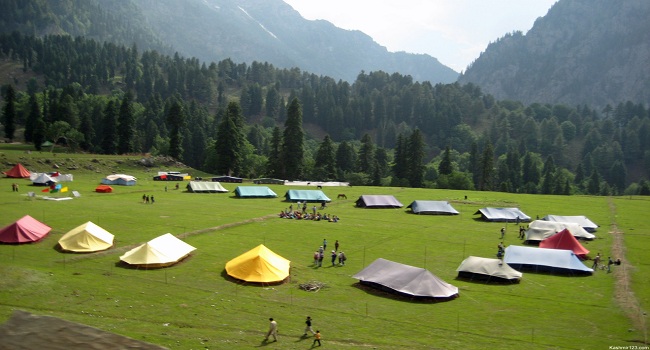 Sonamarg is an important camping destination in Jammu and Kashmir. This is a meadow which is always lush with golden green grasses and cloudy mountains. Sindh Sagar River runs close to this place. Many campers visit this place during summer to watch the snow melting from the mountain top. There are a lot of other camping spots in Jammu and Kashmir, but Sonamarg is the first choice for many.
Other honourable mentions for camping sites in India are Kaudiyala and Pushkar. There are more than 50 places to camp in India. It is important to choose a place in accordance to the climate, other tourist attractions and activities around your camping area. Some places need prior approval for camping. So, learn about your camping spot in detail through internet sources before you plan your travel itinerary. Also check out the best camping tents for sale which are available online too. Best tents are the best rooms!
Happy Traveling!
WorthvieW
For latest updates follow us: