Traveling alone to a place like Hampi is one of the best feel ever. During  Ramzan and Ganesh Chathurthi holiday time, I went on a 2 days trip to Hampi, a village in northern Karnataka state, India. Hampi is one of the most beautiful village i ever seen. It is situated on the banks of the Tungabhadra river.
A brief history of Hampi:
( From WIKI page )
Hampi is identified with the historical Kishkindha, the Vanara (monkey) kingdom mentioned in the Ramayana. The first historical settlements in Hampi date back to 1 CE.
Hampi formed one of the core areas of the capital of the Vijayanagara Empire from 1336 to 1565, when it was finally laid siege to by the Deccan Muslim confederacy.[1] Hampi was chosen because of its strategic location, bounded by the torrential Tungabhadra river on one side and surrounded by defensible hills on the other three sides.
The site is significant historically and architecturally. The topography abounds with large stones which have been used to make statues of Hindu deities. The Archaeological Survey of India continues to conduct excavations in the area, to discover additional artifacts and temples.
How to reach Hampi:
I traveled from Bangalore. So this is for the folks from Bangalore who are planning over a trip to Hampi.
Options to reach hampi: by bus, by train( till hospet)  and by your own vehicle too ( yes, roads are good ).
By Bus: Thanks to KSRTC !  There is a direct bus to Hampi from Bangalore that starts every night at 11 P.M. (Rajahamsa service) and drops you right in the middle of the Hampi village.  I had chosen this bus for my trip.  Also there are number of buses from Bangalore that either terminate at Hospet , or passing via Hospet.
By Train: There is a night train from Bangalore to Hampi, to be specific the Hampi Express. This is the most convenient means to travel from Bangalore to Hampi. Get down at Hospet and hire a auto or cab to Hampi which is just 12km far.
Places to stay in Hampi:
Now you reached Hampi, next question is where to stay? No Worries, every home is a home stay in Hampi. They charge only 150 rupees for 24 hours. As I am the only one with me, I have no confusion to stay.  Non-veg and Boozing are strictly prohibited in the Hampi village.  Sounds hurting ? Hmm… then you can choose either of these 2 places to stay – Anegunidu ( cross Tungabhadra river to reach) and Hospet ( 12 km far from Hampi).  Check this link for more details about stay.
Now you are ready to explore the ruins of hampi ! Where to start ? What to do ?
Again Good question. There are many options to explore the beauty of this place. You can hire a Moped or bicycle for reasonable prices.
The rental rates vary a bit with the season.
Bicycle (without gear): Rs 30 per day / Rs5 pr hour
Bicycle (with gear) : Rs 50 per day. (only few places rent bicycle with gear)
Moped : Rs 200 per day
Scooter : Rs 250 per day
Motorbike : Rs 300 per day
Fuel cost:  Changes ! ( right now 85 Rs)
Places to Explore: 
Buy a local guide book that comes with the map which costs just 20Rs. That will be your best  friend in Hampi !
Note: It's purely my tour experience , you can cover all these places in any direction.
So here's my first day!
Unfortunately I hired an auto for first day to cover hampi ruins which is not so advisable because of its cost. ( 600rs – 6 hrs )
Virupaksha temple
Virupaksha temple, which is at the center of the hampi village is the first place i visited.  Also known as the Pampapati temple, it predated the empire, and was extended between the 13th and 17th centuries.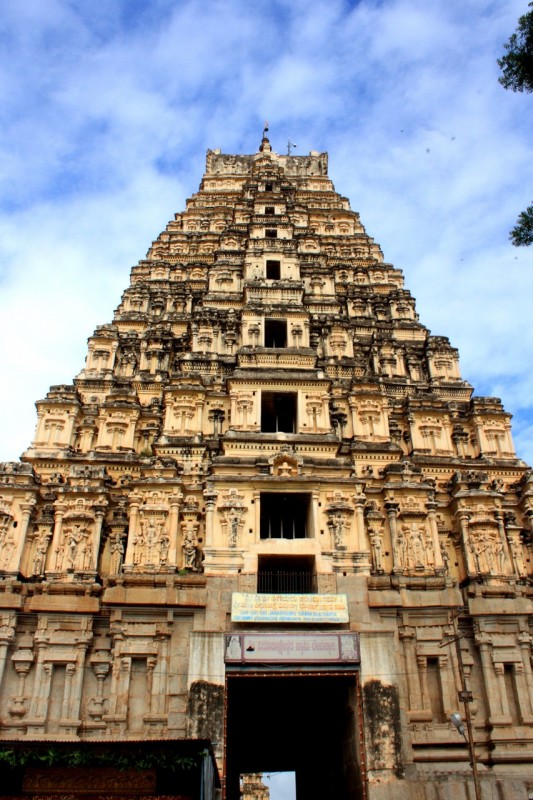 Side view of the temple from Ganesh Temple…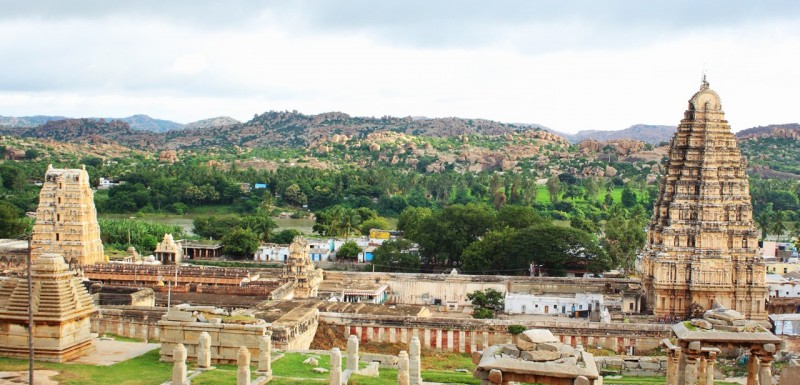 Vittala Temple
From here, i went directly to Vittala temple which is around 9 km far from Hampi if you traveled on any vehicle. But if you choose walk, a small trek, its just 3km.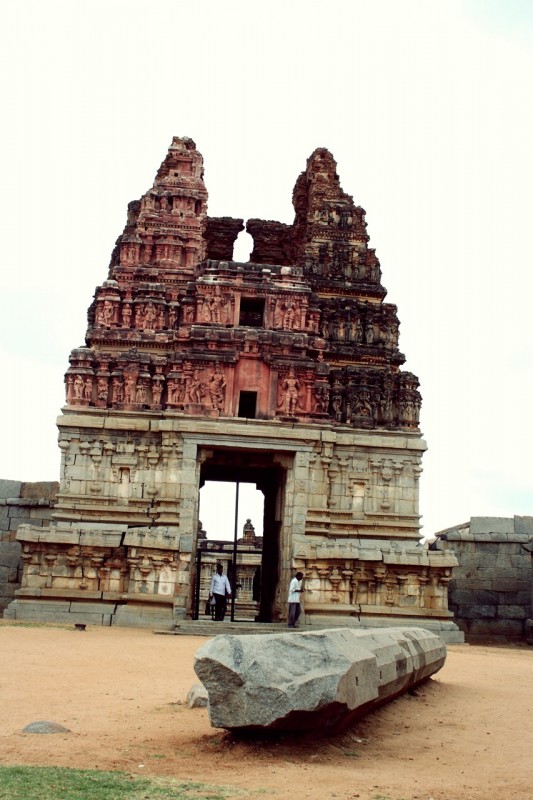 Stone Chariot in Vittala Temple carved out of a single rock, to resemble the temple chariots or rathas.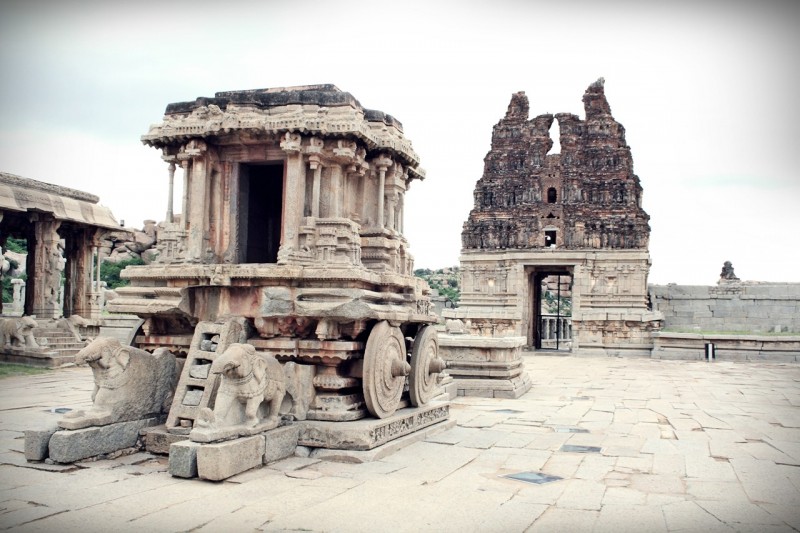 Other notable features of the Vittala Temple is the musical pillars !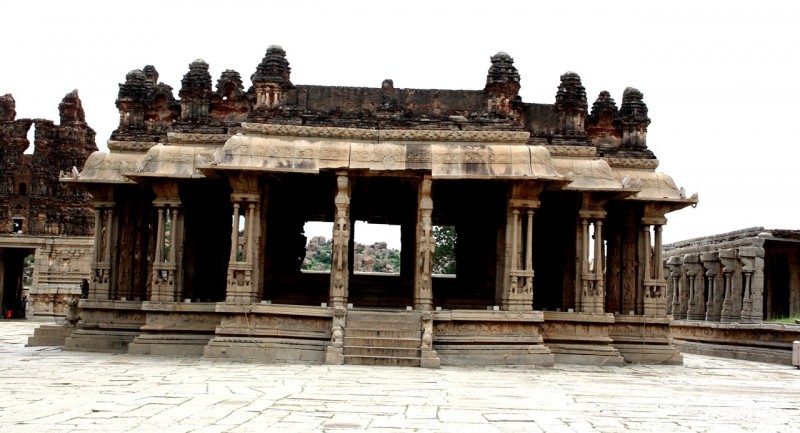 My next stop is at Archaeological museum. It's really worth visit place. Photography is not allowed inside the museum.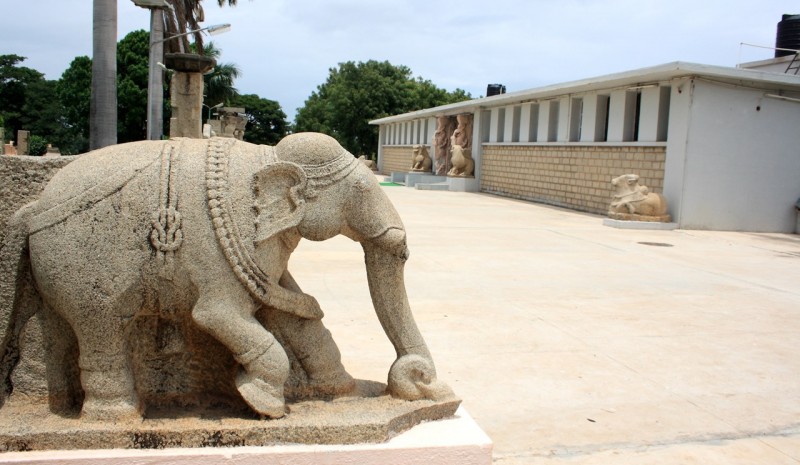 On the way to this museum you can also cover Jain Temple and Bhima's Gateway.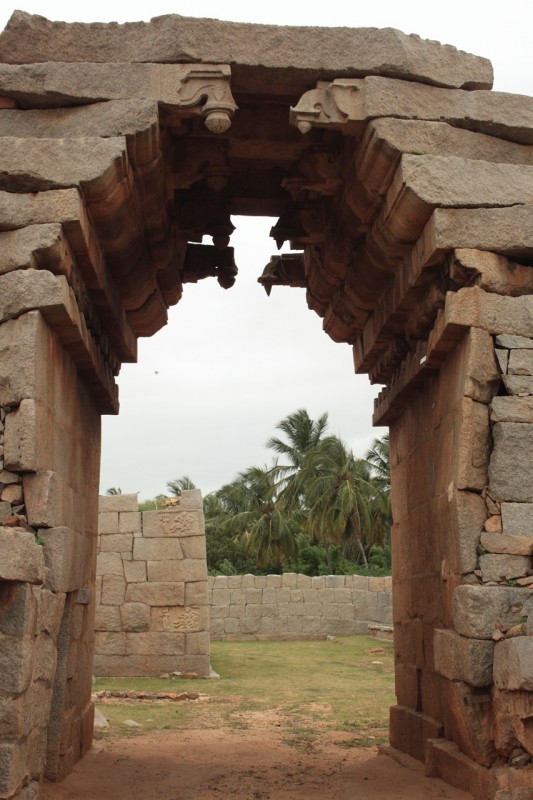 That's the end of morning session of my first day. I had a really good food at Mango tree restaurant, the best in Hampi.
Queen's Bath
This is the first ruined structure you would see when you enter into the Royal center from the Kamalapura-Hampi main road.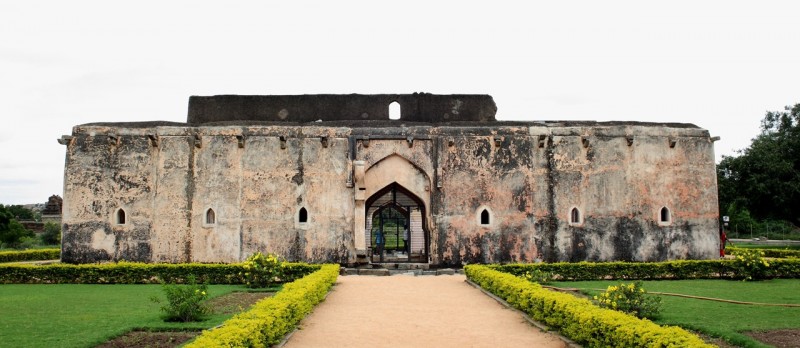 The Royal Center 
The Royal Centre contains the ruins of palaces, administrative buildings, and some temples directly associated with royalty. Little remains of the palaces except the foundations, as they were largely timber structures, for comfort. The temples and some of the other stone structures survive however, as do many of the surrounding city walls.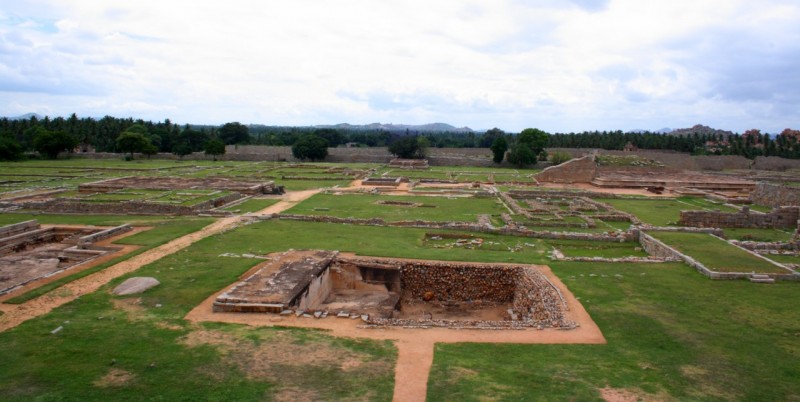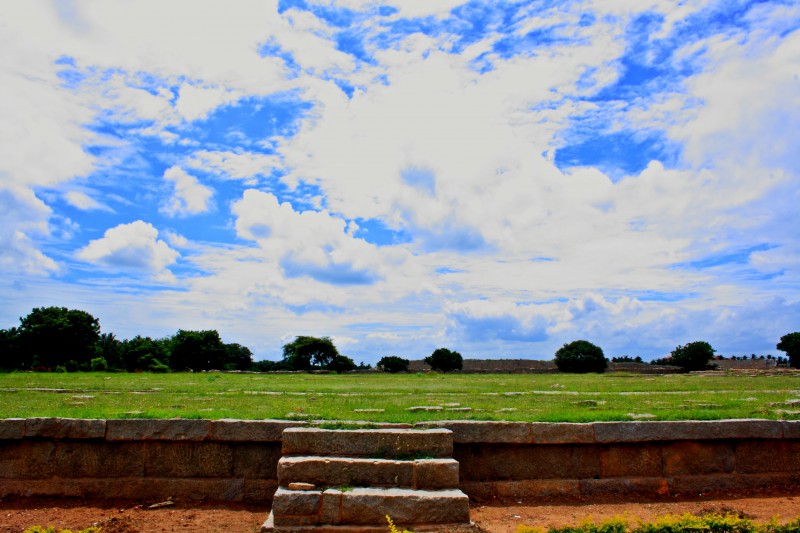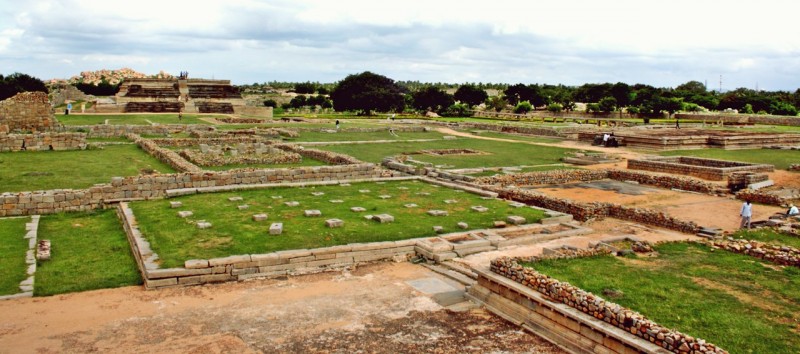 Mahanavami Dibba
Built by King Krishnadeva Raya, the platform was used as a stage for public performances, animal shows, war games, sports and the nine-day Navratri celebrations.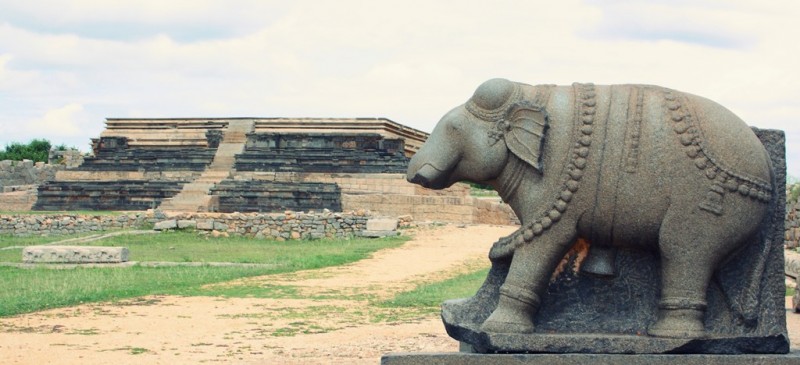 Stepped Tank ( Pushkarani )
This large and geometrically thrilling tank, lined in green diorite, has never required restoration. It has no drain, and is fed by an aqueduct. It is 7meters deep and 22 meters in square.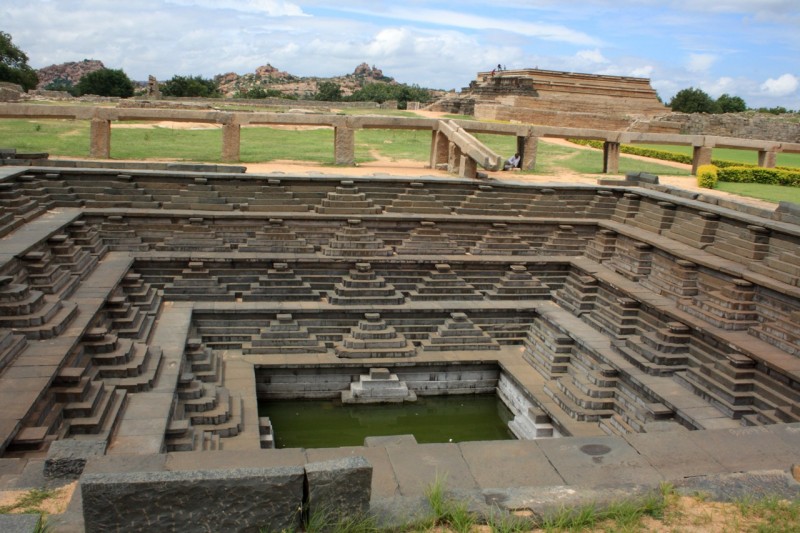 Zenana Enclosure 
Just a km far from Royal center lies Zenana enclosure. It was a secluded area reserved for the royal women. This walled harem houses many interesting highlights. The major attraction is the Lotus Mahal.
Lotus Mahal
Also known as Chitragani Mahal and Kamal Mahal, this falls under the secular or nonreligious categories of structures in Hampi. It's peculiar to note that this is one of the beautiful structures that were left undamaged during the siege of the city.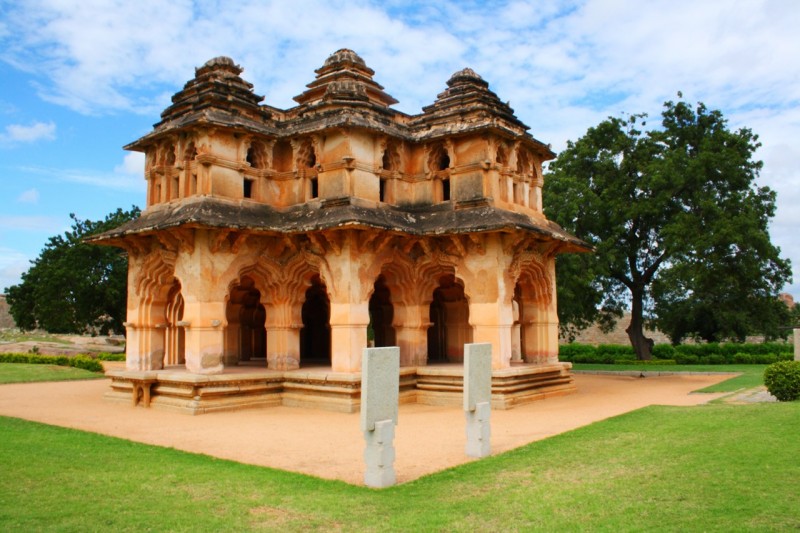 Elephant stables
This long building with a row of domed chambers was used to 'park' the royal elephants. There are 11 domed tall chambers; some of them are inter- connected. The center one is specially decorated and big. Probably the musicians and the associated band troupes had been using this during ceremonies involving elephant processions.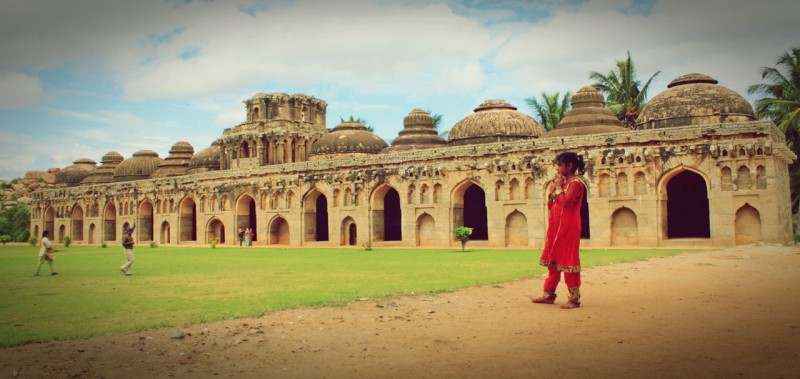 Archaeology Gallery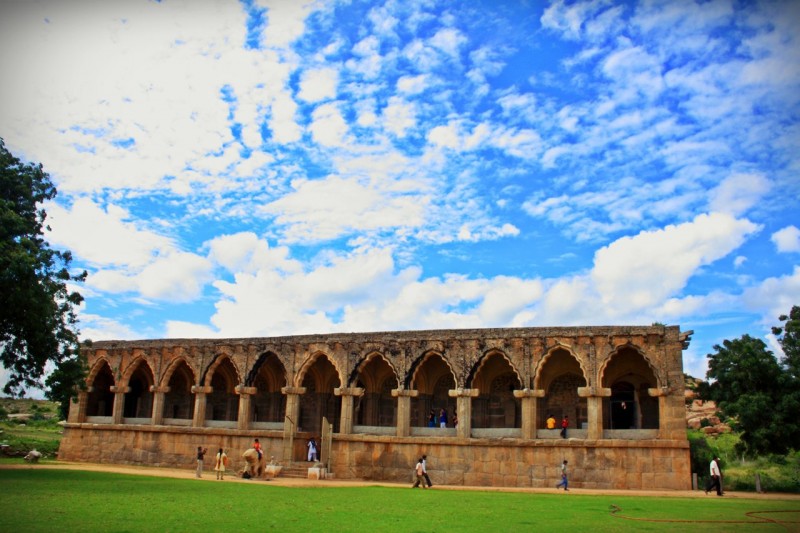 That's it for the first day. For day 2 and other places, please visit this page.
Thanks,
WorthvieW
For latest updates follow us: