After having a wonderful first day, I  started my second day in search of sunrise. But as it was a rainy day with black clouds, i couldn't get a better photo than this. I know it didn't came out well but just to start this post i had chosen this.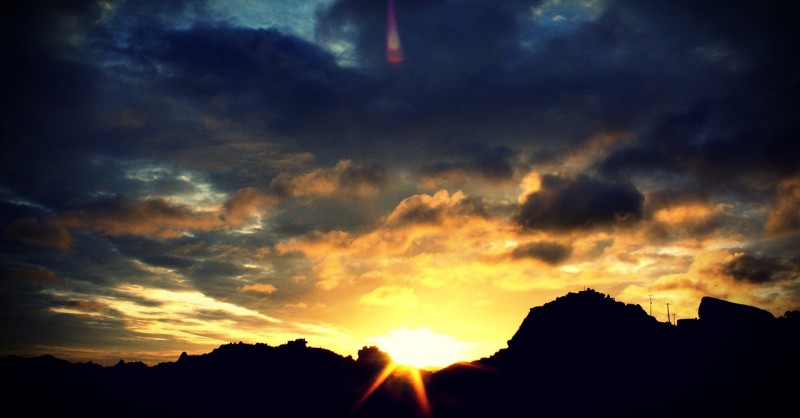 After watching unclear sunrise, I went back to my room and checked out. I thought of hiring a bicycle for the second day tour to cover other places, but as per the guide, the places left to cover were all near around. So I choose to walk and went to Matunga hill which is 1km far from Virupaksha Temple.
On the way to Matunga hill,
Virupaksha Bazaar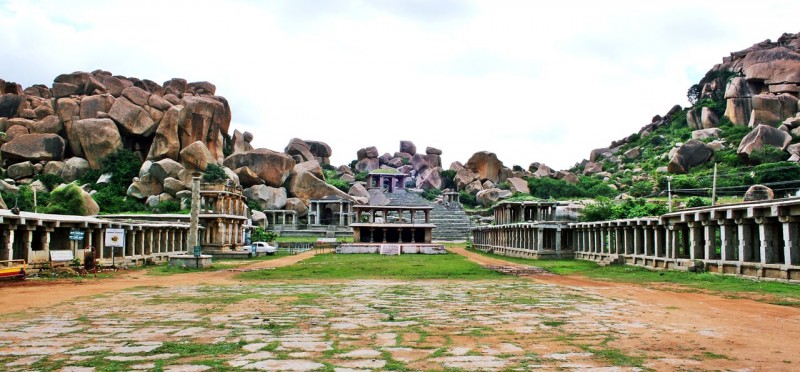 Monolithic Bull at Matunga Hill 
It is located in the Virupaksha Bazaar. Local people call it Yeduru Basavanna or Nandi.The Monolithic Bull in Hampi was built in a two storied pavilion constructed on a raised platform. The decorated  Monolithic Bull attracts visitors from far and wide due to its huge size. It faces the Virupaksha temple which is located nearby.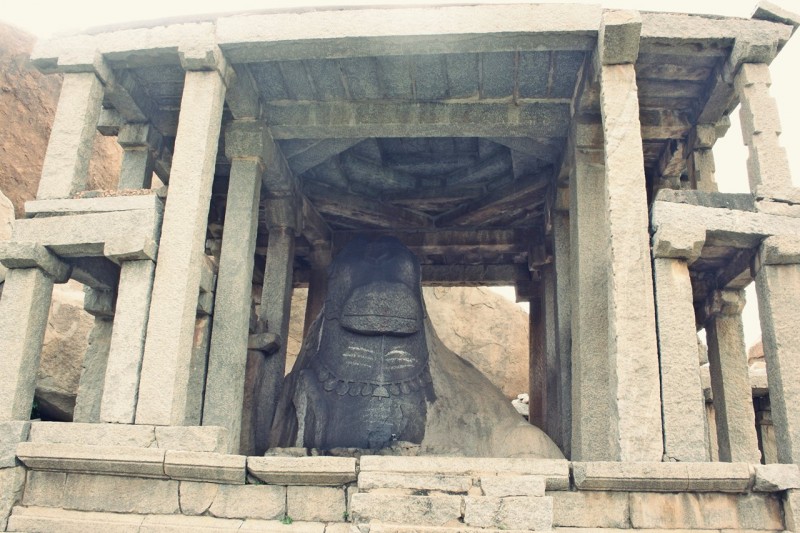 On my journey I met a friend, a girl named Sophie. She is doing a fabulous voluntary work by teaching English to children  near Mysore.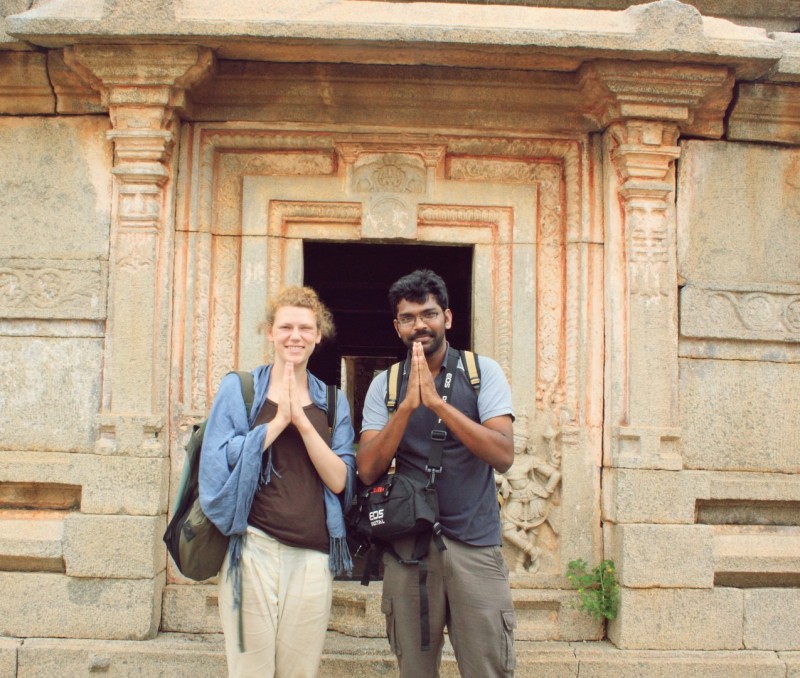 Achyutha raya's temple 
After climbing the steps near the Monolithic Nandi, you can reach Achyuta Raya's Temple which is dedicated to Lord Tiruvengalanatha, a form of Vishnu.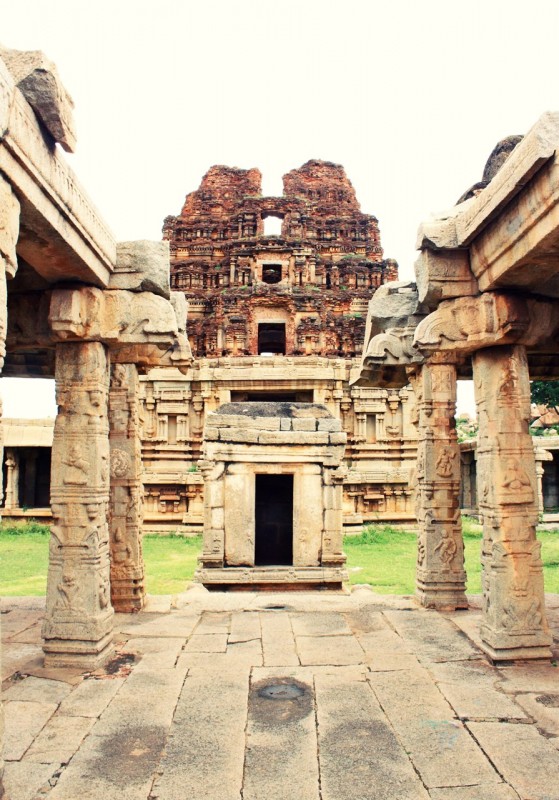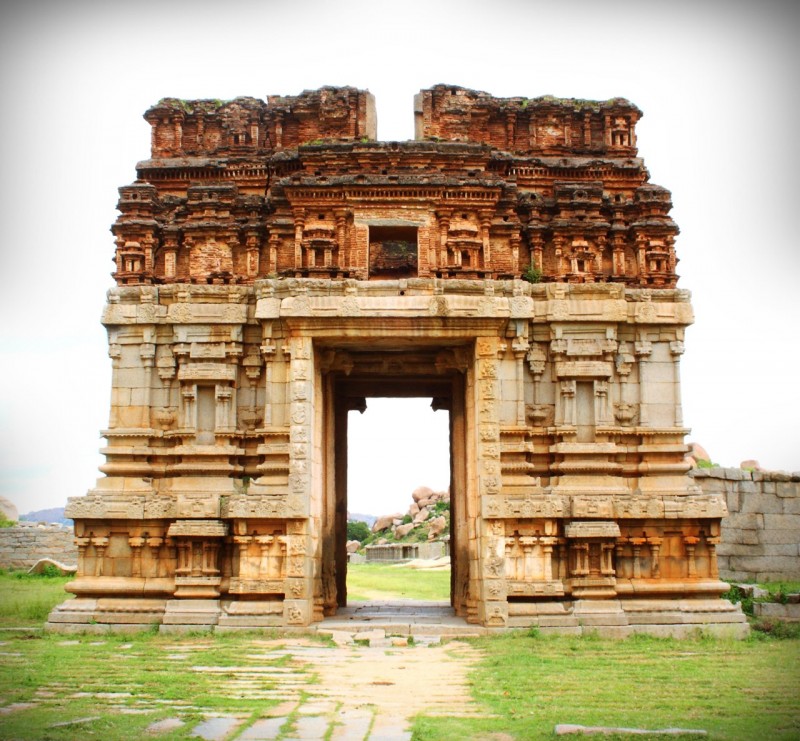 Kings Balance
It is very near to Achyutha raya's temple . This 5-meter or so tall 'balance' is located near the Vittala temple. Also called as Tula Bhara or Tula Purushadana, the king used to weigh himself with gold, gems, silver and precious stones, and distributed to the priests.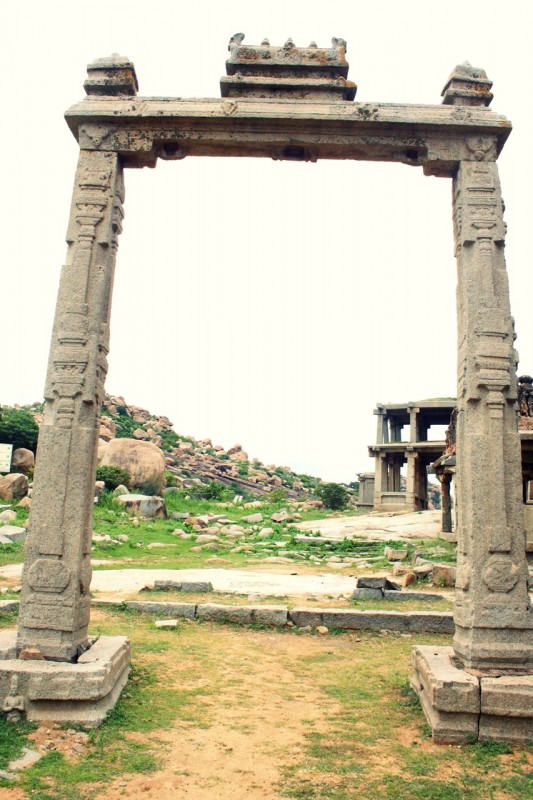 Tungabadhra river
The other side.  Flow of tungabadhra river near King's Balance.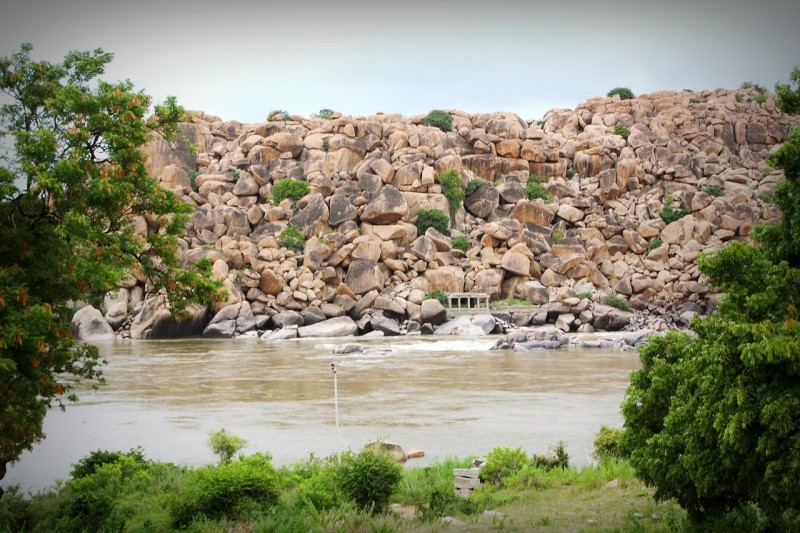 My next stop was at Hemakunta hill, one of the tallest hills in Hampi. But this hilltop and its slops offer a splendid view of the sprawling ruins site.
Sasivekalu Ganesha
On the slope of Hemakuta Hill beyond the Krishna Temple, there are two huge stone images of Ganesha. First one is the Sasivekalu Ganesha about 2.4 metres tall and ironically named as Sasivekalu or mustard seed. The God is seated in a large open mantapa with plain rough square pillars.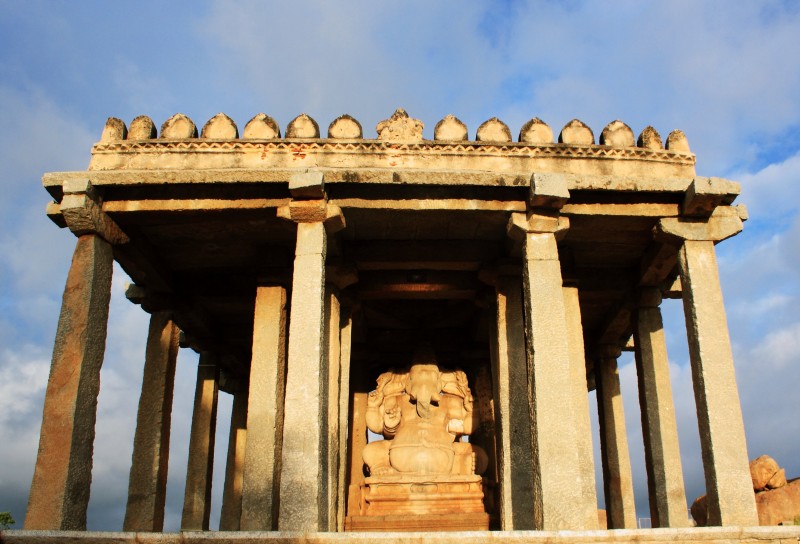 And the other Ganesha Temple on the hill is called Kadalekalu Ganesha. The belly of this statue resembles a Bengal gram (Kadalekalu, in local language) and hence the name.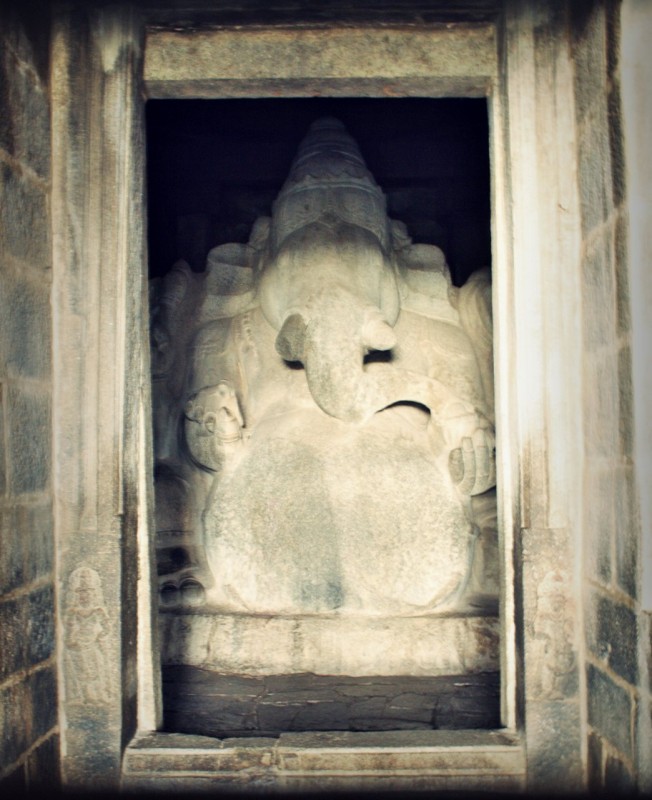 Pillars at Hemakuta hill
There should be some story for these pillars too but sorry i missed it.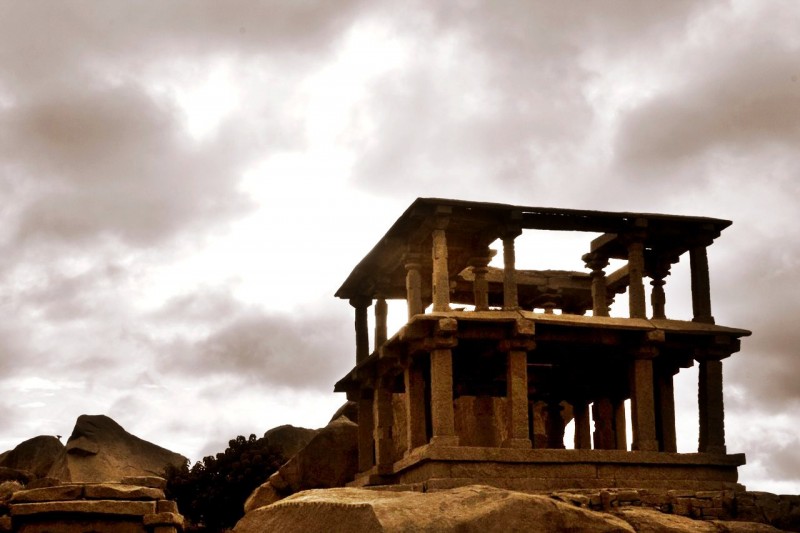 View from Hemakunta hill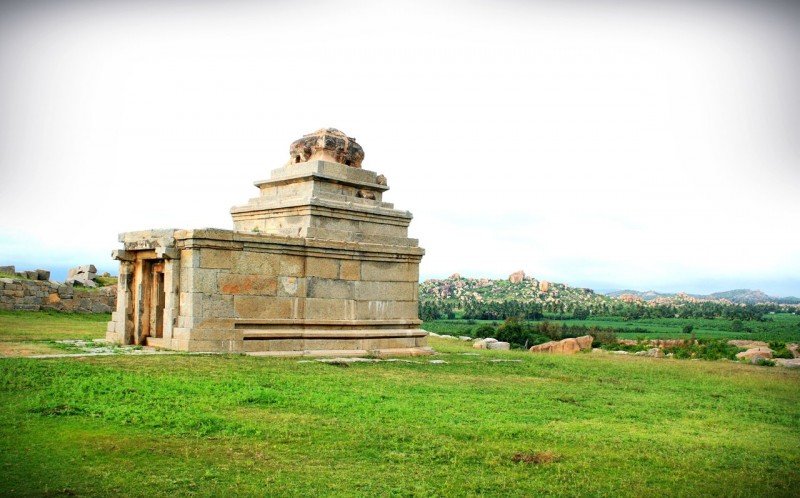 Virupaksha temple tower from Hemakunta hill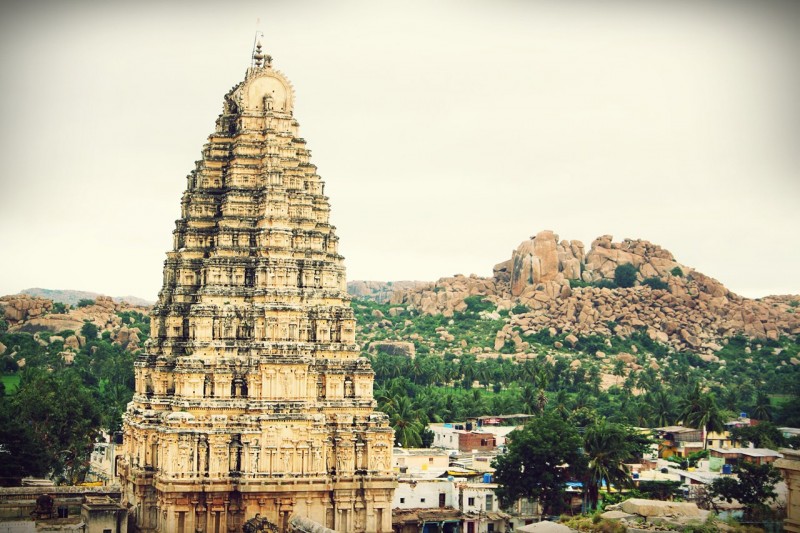 Sri Krishna Temple
After having another good lunch in a local restaurant, I went to Sri Krishna Temple. This is one of the must visit places in hampi. This temple was built by the king (Krishnadevaraya) in 1513 AD to celebrate the conquest of the eastern kingdom of Udayagiri or Utkala (in the present day Orissa state). The main idol installed in the temple was the figure of Balakrishna (Lord Krishna as infant). This idol is now displayed in the state museum at Chennai. A huge slab installed inside the courtyard of the temple states the story of this temple and the conquest of Ulkala.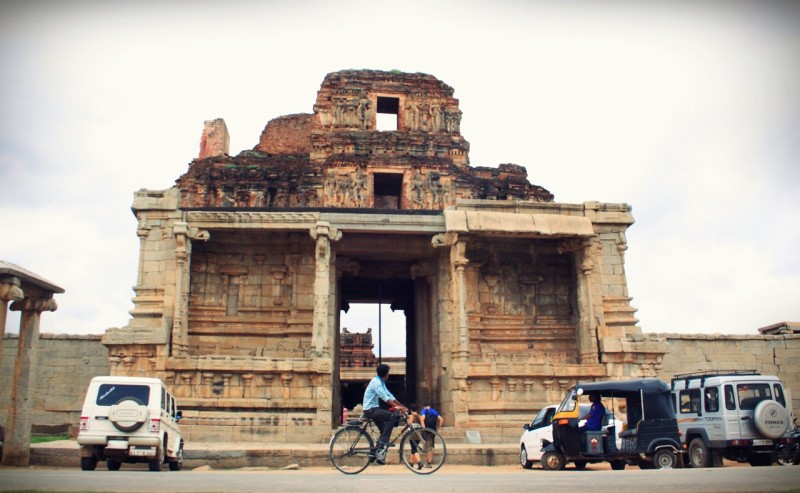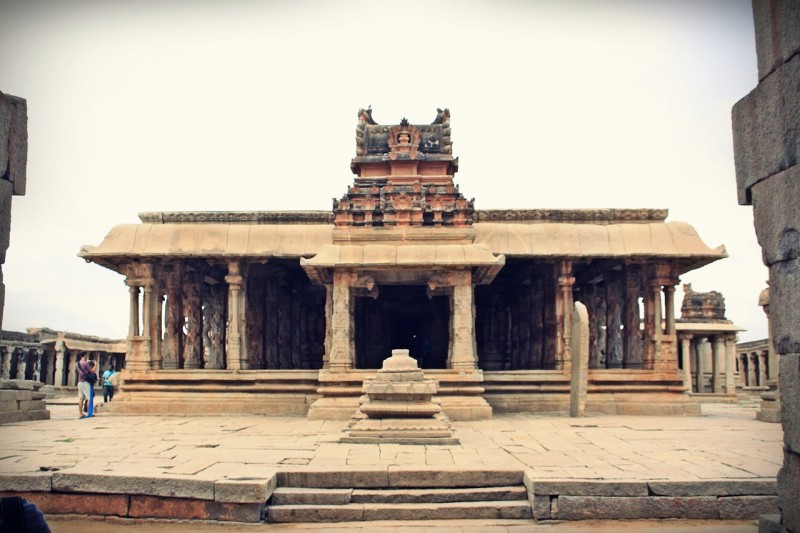 This is one of the few temples where the epic stories carved on the walls of the tower.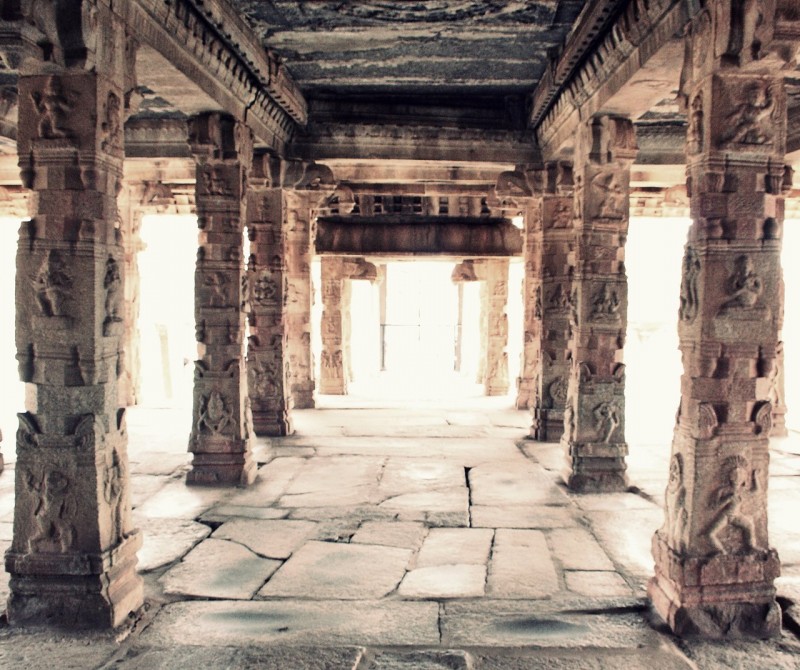 Krishna Bazar 
Opposite to Sri Krishna Temple lies Krishna Bazar. It is a relatively newly excavated site in Hampi.  The sacred tank (Pushkarni) of the temple too is located next to the Krishna Bazaar.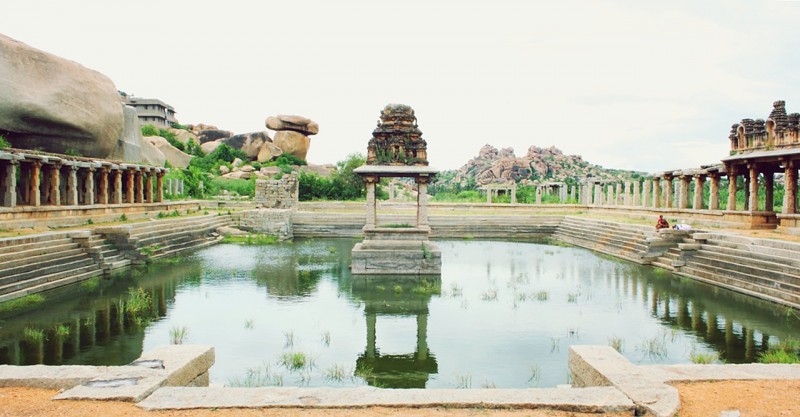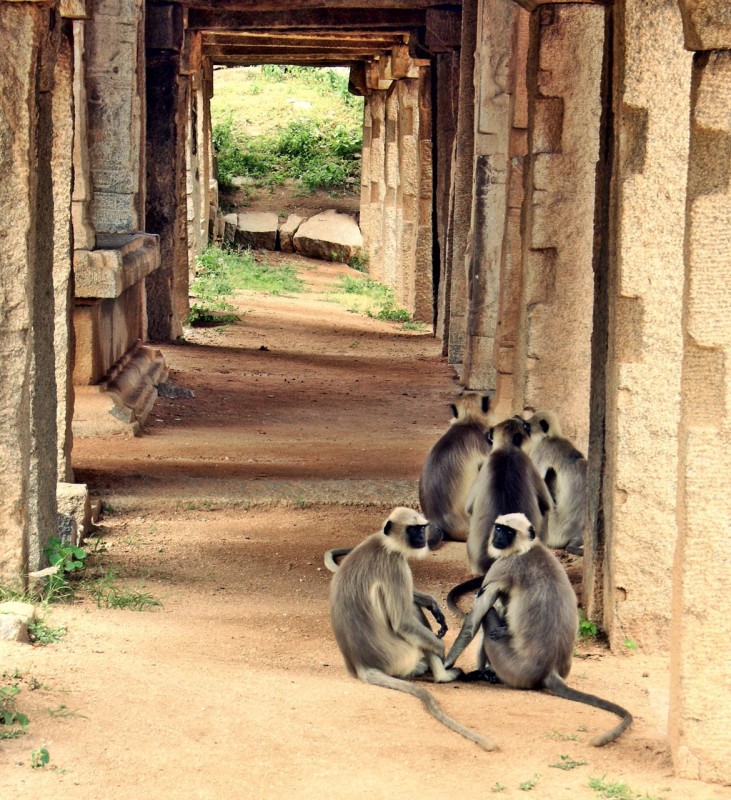 Lakshmi Narasimha Statue
From Krishna temple, this place is just 5 mins walk. This is the largest statue in Hampi. Narasimha is sitting on the coil of a giant seven-headed snake called Sesha. The heads of the snake acts as the hood above his head. The god sits in a cross-legged Yoga position with a belt supporting the knees.
According to  wiki, the statue was originally identified as Ugra-Narasimha, now it is confirmed after further research that it is LAKSHMI-NARASIMHA and not UGRA-NARASIMHA. The hand of Lakshmi, who was supposed to be sitting on the lap of Narasimha, can be clearly seen.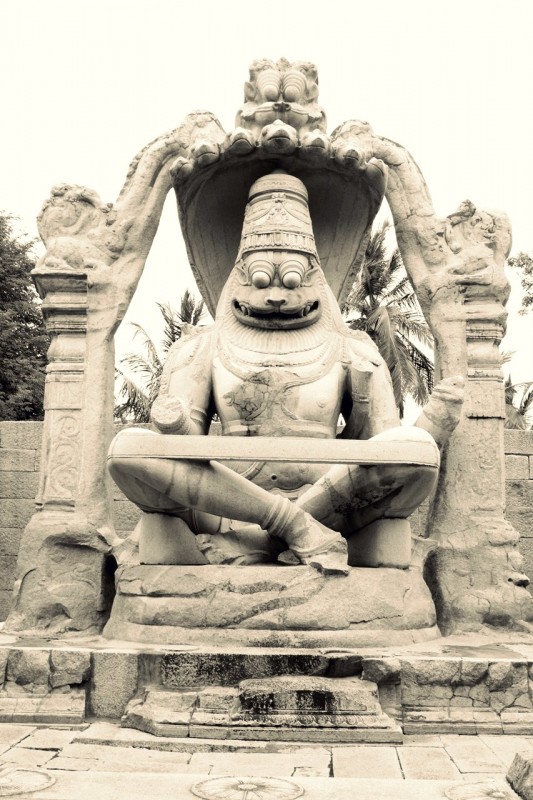 This statue has been damaged seriously during the raid leading to the fall of Vijayanagara. Even the damaged portion of such a large statue of Lakshmi carved on his lap is missing.
Badavalinga Temple
Next to the Lakshmi Narasima temple lies 3 m height Siva linga which is surrounded by waters all sides.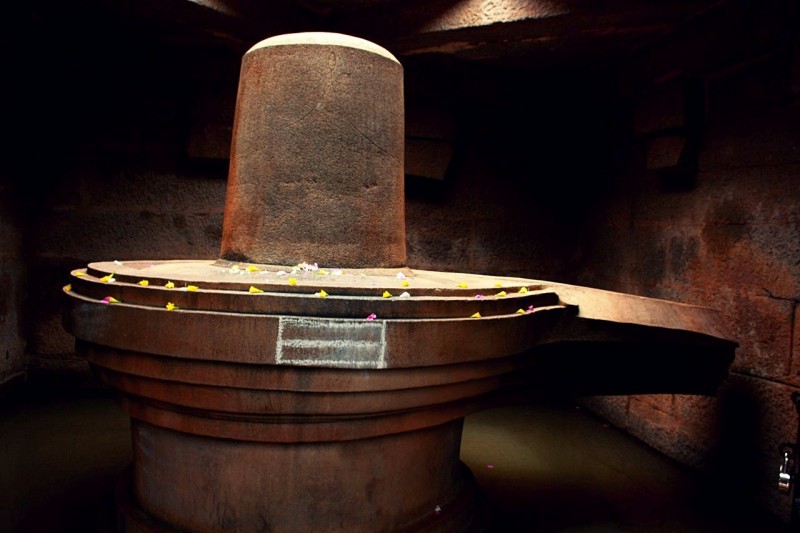 That's it ! Here ends my hampi exploring.  I missed few places like Anegudi which i will cover in my next visit. It's surely worth re-visit place. And there are many beautiful landscapes in hampi. They really deserves a separate post. I will post my captures soon.
Best resource about Hampi – http://www.hampi.in
It was really great fun to travel and explore new places all alone! No rules, No Compromise, Only YOU.
Happy Traveling,
WorthvieW
For latest updates follow us: