'The Sun Arrived' but we were still sleeping. When is the last time we woke up at 5 AM ? 😛 Obviously its not going to happen. Nevertheless, we quickly packed up everything back on to the bikes and started by 8 AM from Manali. The hotel ownership gave us early morning coffee as well as enthusiasm to start it all.
The next one and half hours was awesome, picking up enjoyment and awesomeness. Pics have started flowing in, on cameras and cell phones. Waterfalls, lush green scenes changed the aura. After all, bike ride is not much of an effort, it seems.
We had to wait for an hour or so, 10 km away from the Rohtang Pass because of a road blockage due to heavy rains last night and landslides happening. Business picked up by the local people giving 'sky rides'. Vineesh and Chandu tried after some bargaining and acceptance for backdoor entry out of the blockade!
On the other side, The scorpions have almost reached Manali, but had some nice views on their way as soon as they woke up. The missing Delhi – Manali route has been covered, better than anytime before, may be, by anyone else so far.
I was surprised to see this kind of beauty enroute Manali itself. The ongoing monsoon made the difference. Ofcourse, with some good photography as well.
So, here is the full scorpio gang in one of the pics below. Without order, the names are Roopa, Yuva, Tilak, Purnima, Vinay, Naresh and Vasu .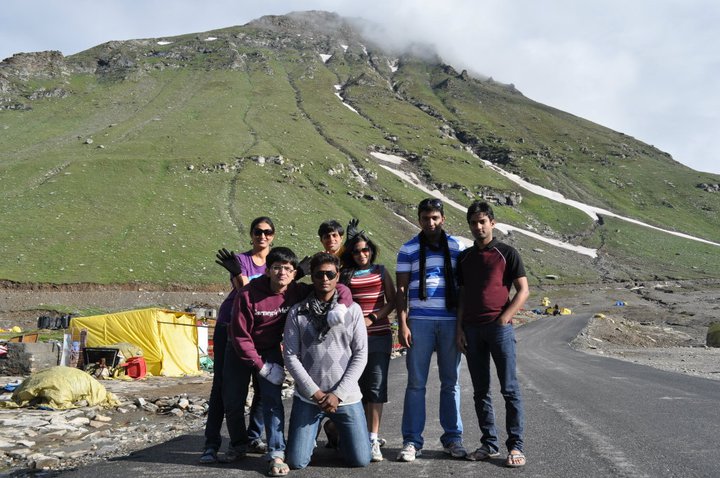 After some bit of rain and fight the police, again by the local people, the blockade is unofficially removed on the caution that 'we are at our risk'. We also got lot of 'discouragements' the previous day that the route is 'pathetic' and our bikes cannot cross it in any case. With all that, there is a hint of doubt, but I'm challenging the roads, expecting to cross without much issue.
We soon found the 'awesomeness' awaiting us. It is definitely bitter than any of us thought. It took 45 min to cover around 2-3 km and then we are at almost a halt. Bikes will not go in that 5-inch mud. Gum boots are in action already. Vineesh and Mahesh got down helping to push from inside the mud while me and Chandu tried to full throttle, skidding and getting dirty. It was enjoyable, slowly, it gave way to other nasty things.
At a very slow pace, nevertheless, moving, we tried one inch at a time. The other vehicles are totally at a standstill for last night ! Our scorpio started from Manali on to this road already and there was no way to inform them to stop (no signal for cell), neither we wanted to inform them ! The target is to get to Keylong, all of us, and meet there by evening. The odds look bleak, very bleak.
Vineesh managed to get his bike out of the problem and is no where to be seen. We are doing our bit to move ahead with our bikes, and most unfortunately, Chandu's bike broke down. It was the clutch plates. We know it cannot be repaired and can only replaced. We tried few options to see if the bike can move but with no luck. We started thinking all options. To leave the bike there ? To transport it on a truck ? To go back ? To sit there on the road ? Gods must be crazy.
There were few other bikes as well, trying their best to cross, we got another bunch of guys going a very similar schedule and plan, a Sameer from Dehradun. They helped us with carrying our luggage (only to carry it too far that it went along with them for the rest of the journey, Chandu is left with only a pair of clothes that he wore, for the next 10 days 😛 )
We are running out of time, and energy, without we knowing it. No signs of any idea. After some time, cells were working. Thank you God, I am an atheist. 
Vineesh came walking to know what's going on and soon realized its not easy. We started working out options. Vineesh is to go forward and find if he can get either a mechanic or some means to transport the truck. If he cannot find any, he will move to Keylong and stay there awaiting the rest of us. As no miracles are expected, he did the same and reached Keylong in his own style and by 8 PM he is in a hotel, trying to call us to know if there is any movement. He had some good pics taken (alone :P), good job buddy.
We got in touch with the serviceman we got help for the bike last night and he accepted to come up from Manali and repair. Thanks to him. But it will take 4 hrs to reach. Well into the darkness, on the hill.
Mahesh and Chandu, with the help of people around and some army men, hardly managed to get that heavy bike moving in that mud. Hats off for the energy and patience. I followed them on my bike and waited.
Meanwhile, the scorpio also reached this place, and obviously stuck in that long jam. They had good pics, meanwhile, while we are pulling things hard.
Day 1 of theirs

8 + driver in scorpio with no food!!! to add more to the already worse situation, it started raining and it was suffocating inside!! ah … this experience is one of its kind

Waiting is a bad game. Though I thought I have lots of patience, soon I was made to realize that is not the case. Cold is shivering. Rain adds to the sarcastic fun. Everyone is desperate to get out of that place, or to eat whatever is sold or left with them in their pockets and bags. Its almost 9 PM. Three of the scorpios were having a leisure stroll. I am shackled, as I was trying to reach them to know if things are fine with them, and actually things looked to me, better than anytime. I am shackled and broke the rest of the shackles as well. A high voltage drama on that top of landslide prone dark cold hill, with repair going at a looming distance for the bike. It is not intended to be. I am the one who believes that the toughest times brings the character out. And I failed. May be I would do well in the next tough instance, learning from this (which I did, some days later). I learn, and I succeed. It was indeed tough, but the very thought of not being concerned thrust ed hard on me. A series of apologies followed. I am already sad of not the situation, nor that we are in it, but the episode of call-response-silence.
The bike got repaired, but its totally dark. The rest of the traffic is only going to move the next morning, so will be the scorpio. We sent Mahesh to sit in the scorpio. Me and Chandu, left alone. There is sort of a Golden rule, No Driving in the Dark.  We are going to disregard that, very soon.
I was a bit resistant internally to ride in the dark, but Chandu was insisting to get out and at least reach the next nearest place. After all, we cannot stay all night on the road. That's impossible. I was of little less confident of driving in the dark as well. With that pessimistic stuff, we still decided to go. It took 2 hours after some high energy help from truck drivers to just cross to the other side of the road ! Heights.
But then it started to rain little, we can never stay there. I am also getting better with my mind, we started driving.
It was totally dark, our headlights are our life savers. The next three-four kilometers are the scariest. We turned curves and were hitting the road hard, pulled and finally somehow made it to Rohtang ! Not sure of the time, but is definitely past 12 in the midnight. Adventure to its total regard.
Reaching rohtang made small achievement. But we are sure there is no place to stay there. We have to go some 18 Km more to get a staying place. Its dead dark and, being on the top of the hill, it did scare us. We decided not to go further.
Chandu went to the shop keepers, who are dead sleep, to find if there is anything they can do to get us some shelter. We can carry our own shelter, but that 's not going to be sufficient in that cold, and with rain all around. First try failed miserably. I asked to try in the next few shops. Second failed too. Third shop person was very helpful. He allowed us to stay in his shop. We ran inside. The moment we are inside and kept the gloves off the hand, it Rained Horribly. Thank god again ? I don't know. It rained for almost 1 hr I think, and there is no way we could have made it to the next 18 Km, had we started.
We tried sleeping on chairs inside the shop with rain thundering on us, but I couldn't sleep. The shopkeeper (sad that We didn't ask his name), said there is a separate tent that is empty and we can sleep there. I was having no second thoughts in accepting his offer. That tent is far in the hills, and we are scared, asked the shopkeeper to escort us :P. He helped unhesitatingly. Humanism still exists, purely and silently in the himalayas. I always knew it.
We ran to the tent in that downpour, adjusted hastily and finally had a chance to sleep. Didn't expect that I would get a blanket to cover for that night. I almost made up my mind to sit on the road, except that I am sure it will disturb the next day's schedule. Now all the worry is gone, next day is going to be a 'break' for all of us, as it will take a while for the scorpio also to reach Keylong once the traffic clears in the morning.
Vineesh is at least having good sleep (of all of us) in Keylong, me and Chandu in a tent shivering and sleeping (not much talk), and the rest in the scorpio, praying for no land slides (a land slide did happen, and the Sameer's group I mentioned above had a fatal blow to one of their friends !  I wish a speedy recovery).
Deenemma Jeevitham.
For latest updates follow us: