It was indeed a good morning. I was supposed to be not feeling well, that's the impression created by the person who takes care of the tents where we stayed. He made sure I ate lots before we start for the day. Well before half past 8, we started up hill, the first target is to reach Pang.
The scene at Pang is, people having nice sleep, some trying to get better, and the rest started on a trek ! Great Times.
It was not tough, as was expected to go up hill to Pang. Flourishing designs of the nature in front of the eyes. The black bike kept on giving continuous troubles, it started getting used to us, especially to Vineesh. Every 15 min, he is sure to check the status and 'health' of the bike.
Within 90 minutes, we were at Pang, had a relax for an hour telling and listening what all happened. A mutual exchange of happenings. We started early than the scorpio, as usual, this time to make sure we stay ahead. From Pang, it is going to be superb. The awesomeness improves.
We are going to soon reach the Second Highest Pass of the World, Taglang-La through the 1000-lane roads of Moore Plains. I remember enjoying hearted-ly going through these plans last time, and I am sure it is going to be repeated. The roads got better, well the fun gets better too.
It took around three hours to cross the Moore plains successfully. We do not have many places to stop. We reached Taglang La.
We were unable to stay for long at Taglang La, which itself is at a awesome altitude of 16,676 ft, with gaining altitude in a much shorter distance.
We moved on, the climate becoming very very cold. The full day was awesome right from the morning. While going down, we found some snow. Finally. We enjoyed for a long time (so were the scorpions, by the time they reached).
I know its going to be easy from then on. Within no time we reached Rumtse, where we have some good food. The nature suddenly became colorful from the gray shades of the rocky mountains. Its all green, maroon and lot other colors. Leh is on the anvil. May be around 90 minutes away. We waited at Rumtse to catch up with the scorpio. We all had a gathering. We moved on, on our bikes to reach Karu, where we stopped for minor bike repairs and checkups.
40 min away from Leh. We roared. It was dark by the time we reached Leh. It was more of a relaxed ride from Karu, enjoying the Ladakh valley, the distant Gompas, me trying to explain the places to the rest of us as much as I can, in between health checkups for bikes and many many pics.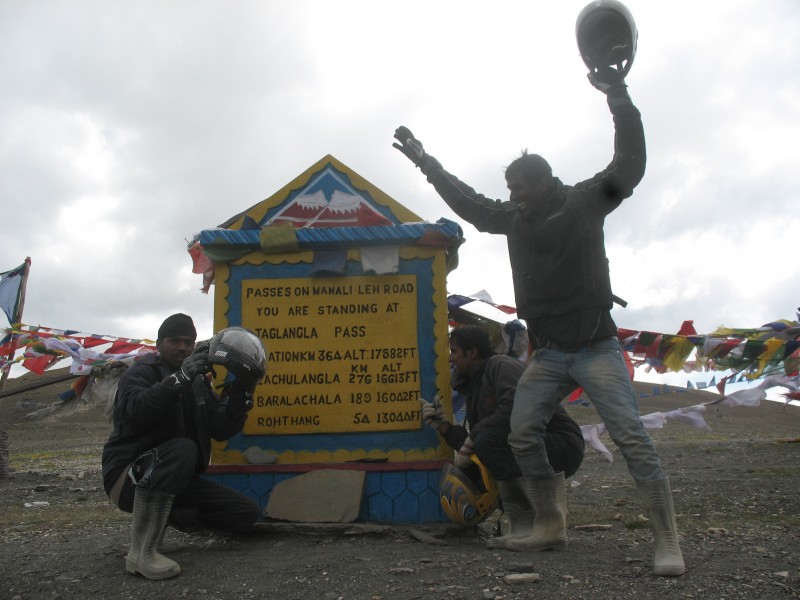 Leh is conquered. One more time. 
Though we reached Leh by around 8 itself, it took us another three hours, to search a place to stay. There are vacant homes and hotels, but to accommodate eleven people, it's not going to be easy. After two and half hours of tough search and filtering by almost all of us in all directions of Leh, we found a guest house to stay, deep inside of Leh. Even here, we almost hijacked the full guest house with our majority numbers, though there were unexpected guests (foreigners ) not happy with our 'shoutings'. We had good food at night as well, with Purnima helping with her cooking. With 'common' bath rooms, there was a sudden demand for them. Sleep comes next.
After seeing the bike ride, most of the scorpio riders wanted to have that experience too. The plan for next day is almost ready in the minds of all. Girls wanted to make sure they get the bike ride without a miss. It all ended by deciding to give rest to the four wheeler and take rented 'big' bikes in Leh. Fortunately, its so easy in Leh to get a bike. I wanted to make a short trip, from second half of the next day to Khardung La. All on bikes. 
For latest updates follow us: