Belur & Halebid tour inspired us to visit more historical places. This time we looked for a place which meets our major requirement [limited budget, month end babu].  So when we googled for the nearest historical places to visit around Bangalore, we came to know about this excellent historical content temple. Within no time me and Ravi Nandan decided to visit this place.
How to reach Lepakshi from Bangalore
By Road
From Bangalore there are two ways to reach Lekapshi.  One is via Hindupur and other through Hyderabad highway. Both involve NH7 (Hyderabad/ Ballary/ Yelahanka road, starting from Hebbal flyover in outer ring road) uptill Yelahanka.
1. via Hindupur: Head to Hindupur straight. From their take a diversion towards Kodikonda.Its just 15 Km from their
2. via Chikballapur : Head towards Hyderabad till Kodikonda ( AP Border ) and then turn left and from their Lepakshi is just 16 KM.
KSRTC buses run so frequently between Bangalore and Hindupur. Road condition is OK.
By train:
Nearest railway station : Hindupur.
So here comes the story of Lepakshi.
Lepakshi is a small village located  15-km east of Hindupur in Anantapur District of Andhra Pradesh. It is considered as the most important place in the district from the historical and archaeological point of view.  The famous Veerabhadra temple, dedicated to Veerabhadra, is the main attraction here. Built by the brothers Viranna and Virupanna, the temple is a notable example of the Vijayanagar architectural style. It is famous for its sculptures, which were created by the artisans of Vijayanagara empire.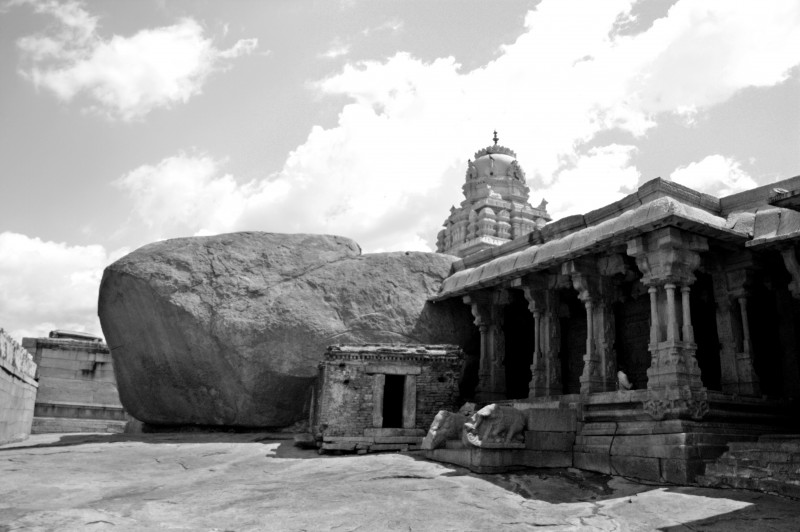 Hanging Pillar
The hanging pillar is one of the 70 pillars which is hanging well almost on its edge .There is a story about it – a British engineer who wanted to know how the temple was supported by the pillars tried to displace one of it, and it caused the movement of as many as 10 pillars around to maintain the balance.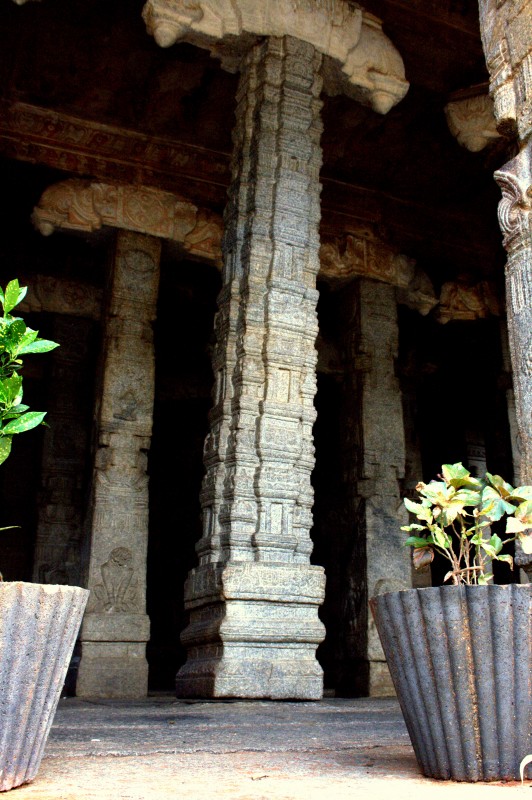 Stone Carved Pillars of Main Temple,Lepakshi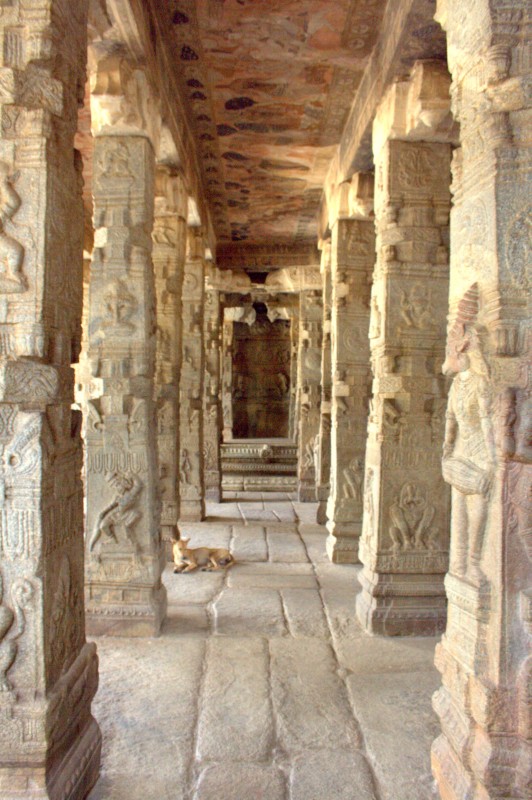 Art on Pillars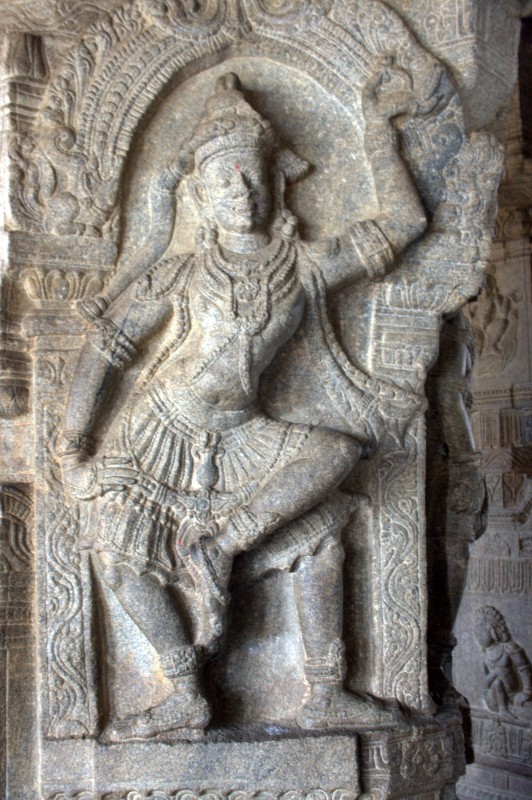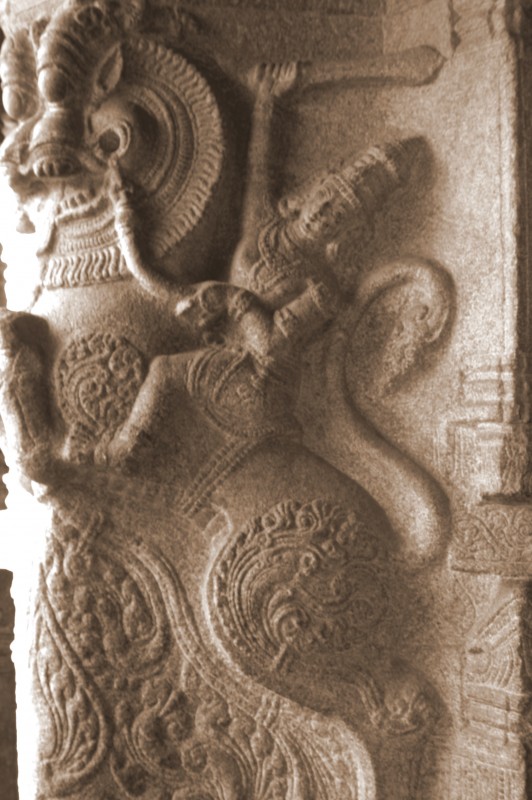 One of the hillocks near the place is known as "Kurma Saila" (tortoise shaped hill).  It was said that this hillock is built in just 15-20 mins.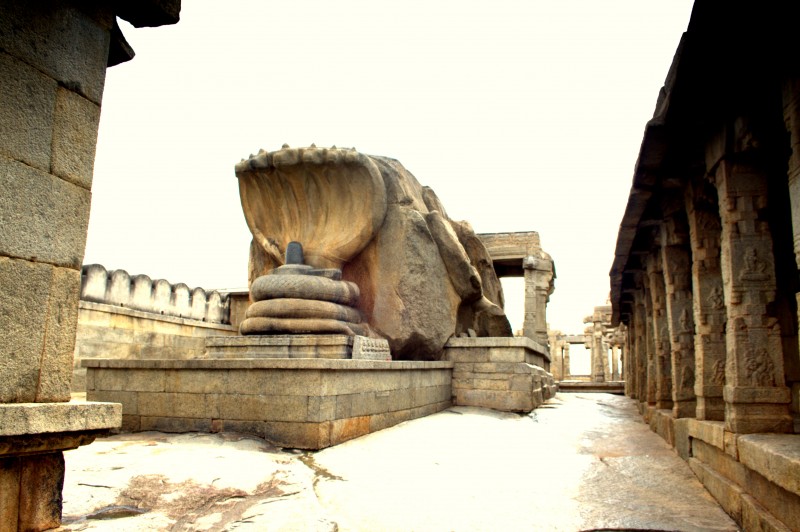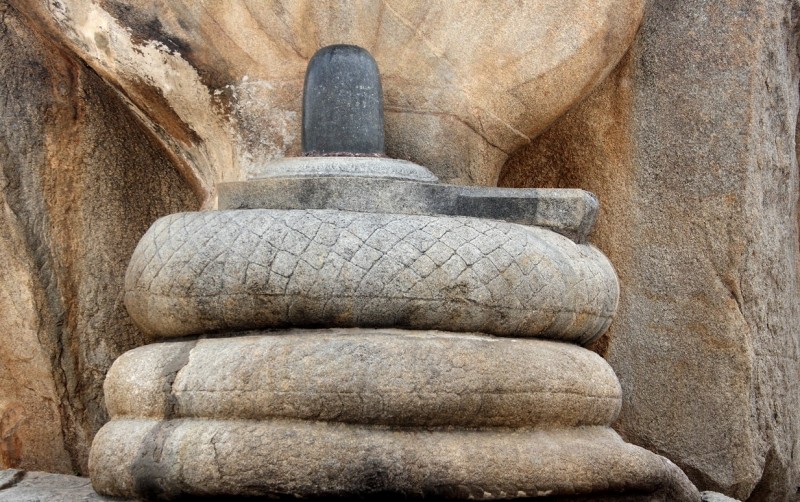 Next to this Shiva linga exists Vinayaka Statue.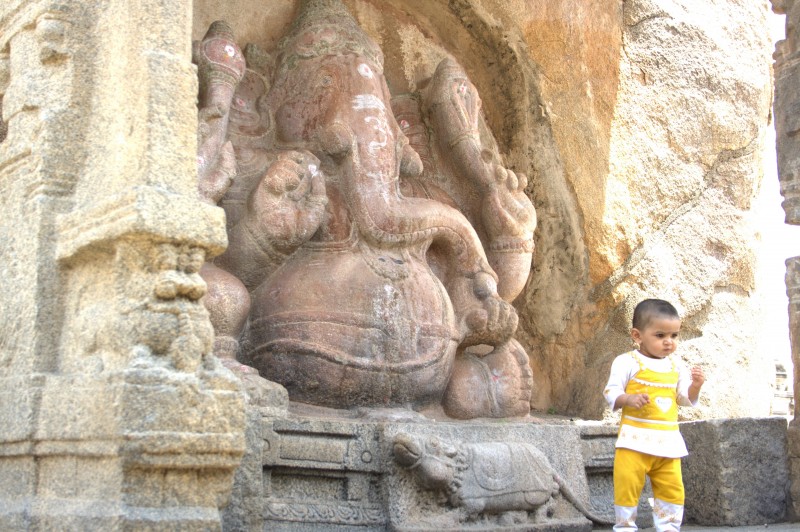 It was believed that Virupanna, the treasurer of the Vijayanagar Kings used the treasure when the King was away at Vijayanagar and planned to built Mandapam back to temple. When the construction was almost finished and it was being supervised the king returned and found the treasure empty. The king ordered, as a punishment to this heinous crime, that he should be blinded. The treasurer being a loyal person carried out the punishment spot with his own bands.
Even today one can see two dark stains upon the wall near the 'Kalyana Mandapa', which are said to be the marks made by his eyes, which he himself dashed against the wall. The builder did not survive for a long time and the village is called "Lepa-akshi Lepakshi", i.e., a village of the blinded eye.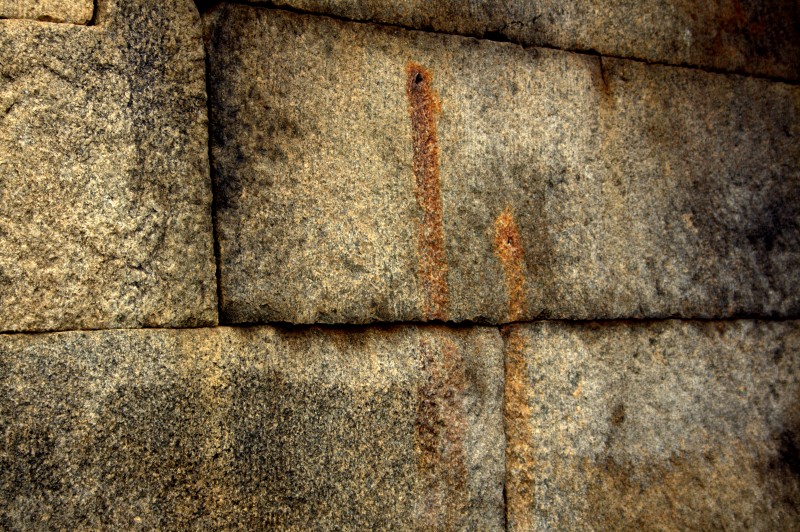 Unfinished Kalyana Mandapam :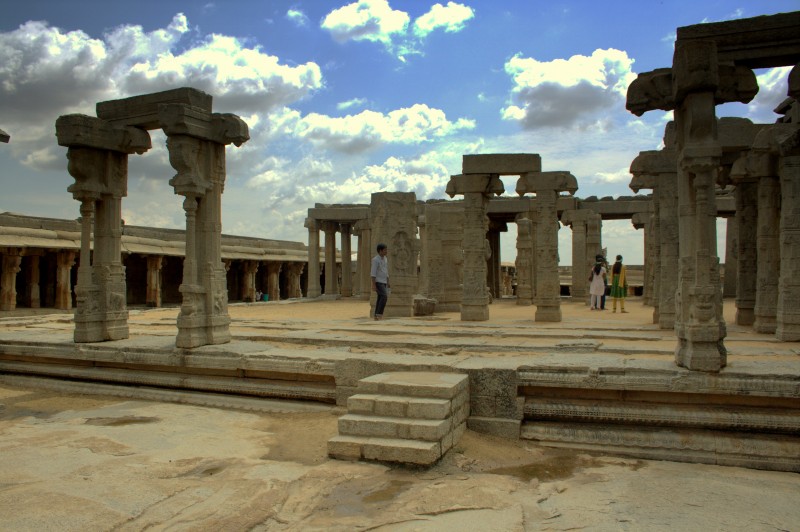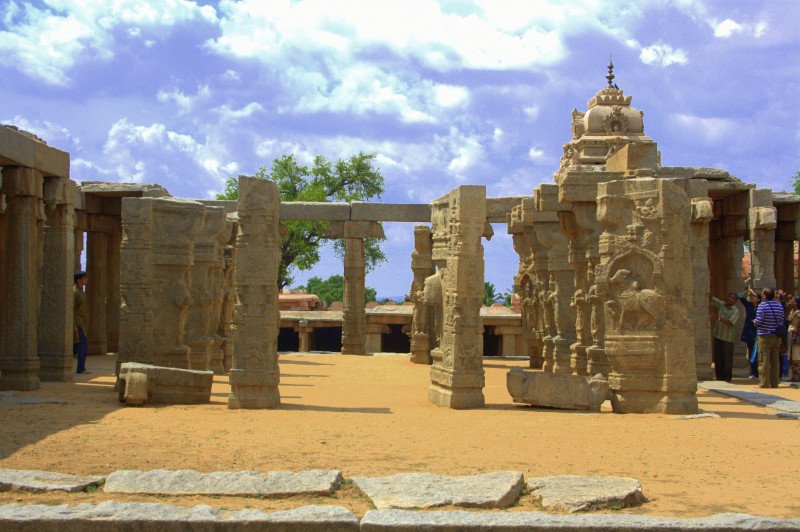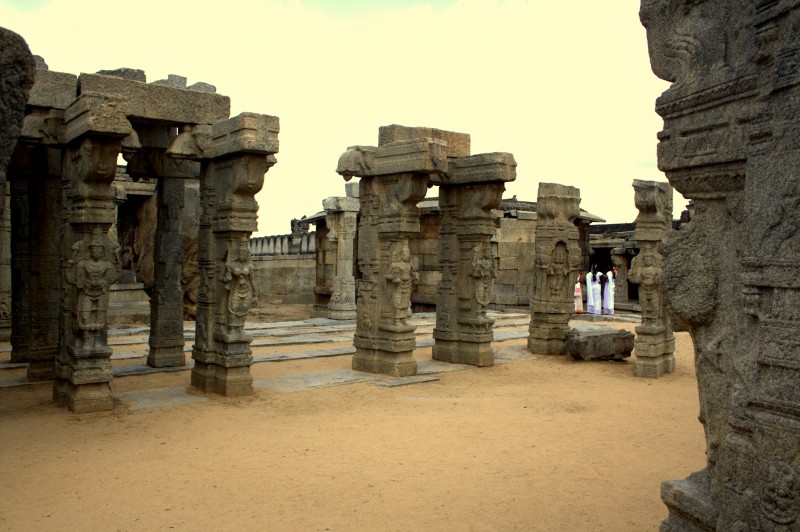 The best part is Sita Devi's foot print  at the temple. She's the shortest girl of their ages ( 25 Feet :O ). According to History,  Ravana had a fight with one bird here while kidnapping Sita devi.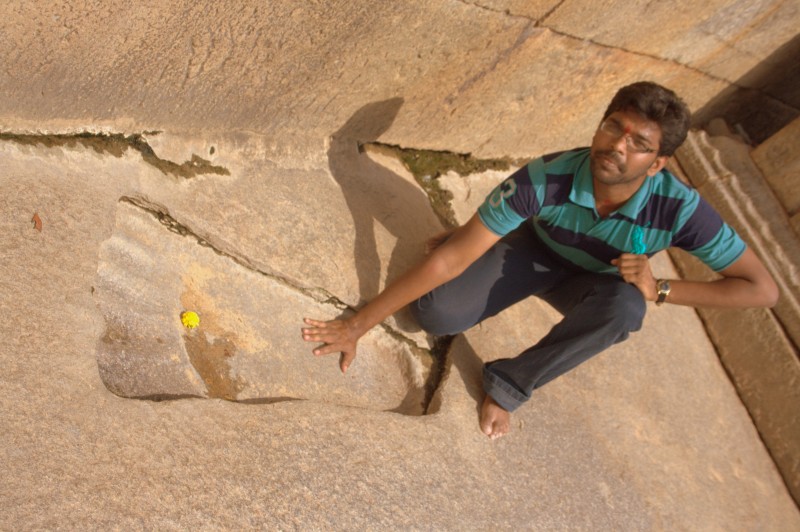 Hanuman temple at Lepakshi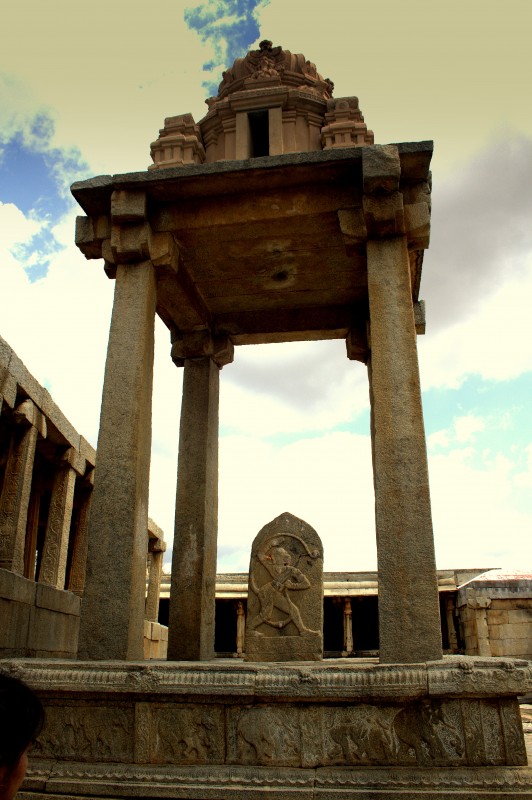 Heights of creativity : 3 head cow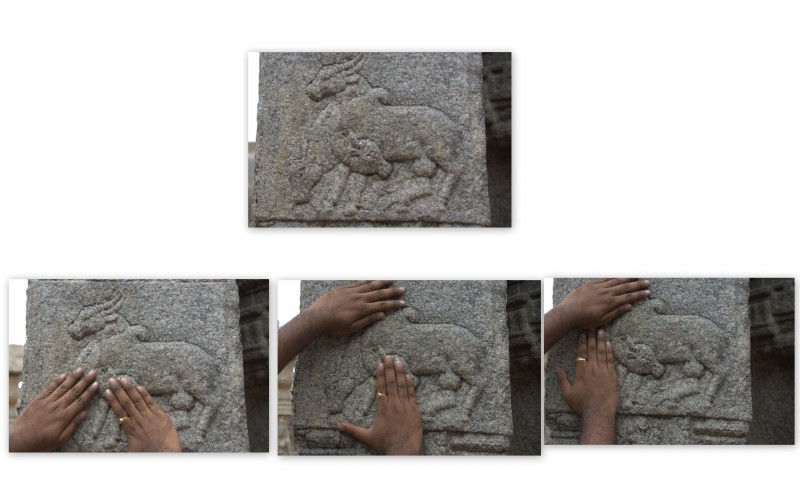 Nandi statue at Lepakshi
A huge Nandi bull statue made out of a single granite stone is one of the attractions in Lepakshi, located less than 1km from Veerabadhra temple. Dimentions :  4.5 m high and 8.23m long.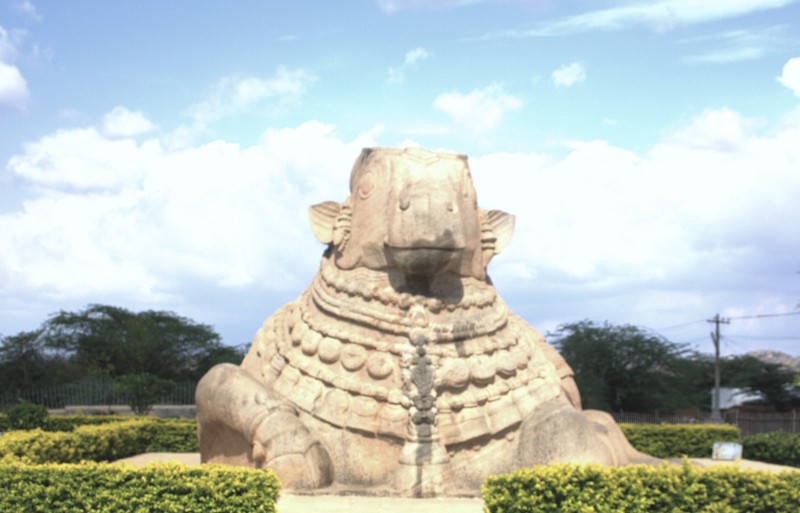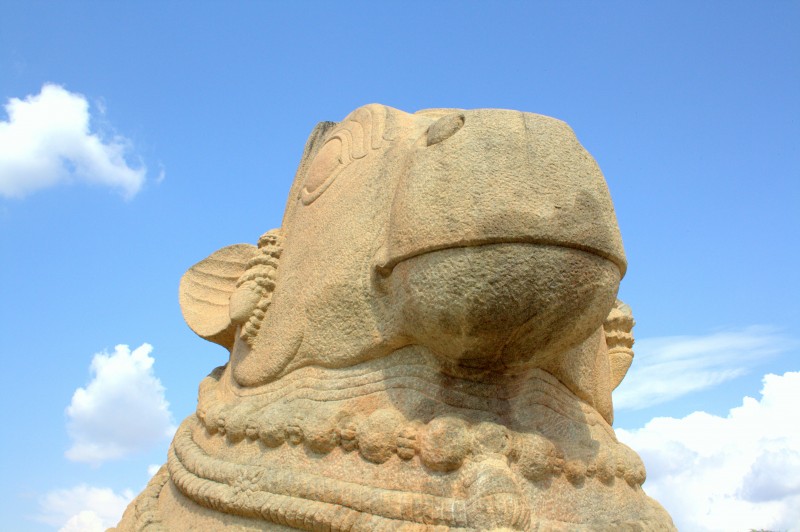 Referece :
http://www.lepakshitemple.com/
http://www.anantapur.com/travel/lepakshi.html
Thanks,
WorthvieW
For latest updates follow us: